/
/
/
Groundwater Sustainability Plans for the Fox Canyon Groundwater Management Agency
Project Facts
Fox Canyon Groundwater Management Agency
Ventura County, CA
Oxnard, Las Posas Valley, and Pleasant Valley Basins
All three plans were approved by DWR
The Challenge
The Oxnard and Pleasant Valley Basins were designated as high-priority basins in a state of critical overdraft by DWR. Under the Sustainable Groundwater Management Act (SGMA), the FCGMA was required to develop GSPs. The FCGMA also chose to prepare a GSP for the Las Posas Valley Basin, since it is hydrologically connected to the Oxnard and Pleasant Valley Basins and also a high-priority basin, though not in a state of critical overdraft.
Plan requirements included establishment of historical basin and water use conditions, including an annual water budget from 1985–2015, determination of sustainable basin yield, undesirable results, and minimum thresholds; and identification of water resource projects or management actions necessary for sustainable management by 2040.
The Solution
Dudek compiled, evaluated, and analyzed historical data from multiple agencies in order to develop the historical and future water budgets for the basins. Through collaborative efforts with the Technical Advisory Committee and stakeholders, Dudek assisted the Agency with the development of the specific, local definition of undesirable results that guided the establishment of the sustainable management criteria. These criteria will be used to address falling groundwater elevations, seawater intrusion, impacts on groundwater-dependent ecosystems, and water quality, as required by SGMA.
The Impact
The GSPs were among the first to be approved in California by the Department of Water Resources. These living documents provide the FCMA and stakeholders in the groundwater basins with a roadmap to sustainable management that allows for adjustment and re-evaluation as new data are generated and new projects are developed.
Project Manager Jill Weinberger said, "I'm proud to have been part of the effort to prepare the GSPs…and we are pleased that DWR recognized the tremendous work undertaken by the Fox Canyon Groundwater Management Agency by accepting these plans."
Turning Numbers into Narratives
Our technical visual storytelling team created numerous infographics from raw data, enabling stakeholders to visualize basin conditions over time.
What We Did
Our multidisciplinary specialties allow us to provide efficiencies that maintain project momentum.
Data Compilation and Evaluation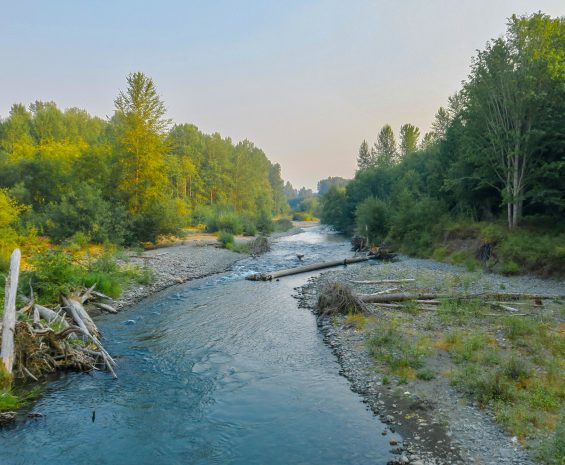 Next Project
Dungeness River Flow Restoration and Aquifer Recharge Off-Channel Reservoir
Clallam County proposed to restore streamflow to the Dungeness River with the creation of an off-channel reservoir on two Washington Department of Natural Resources-owned parcels. Dudek provided cultural resources surveys in support of the Dungeness River flow restoration, which required the installation of new water pipelines and tie-ins to the existing stormwater infrastructure, as well as the installation and use of temporary staging areas and temporary access roads.
View Project