/
/
/
Dungeness River Flow Restoration and Aquifer Recharge Off-Channel Reservoir
Dungeness River Flow Restoration and Aquifer Recharge Off-Channel Reservoir
Clallam County proposed to restore streamflow to the Dungeness River with the creation of an off-channel reservoir on two Washington Department of Natural Resources-owned parcels. Dudek provided cultural resources surveys in support of the Dungeness River flow restoration, which required the installation of new water pipelines and tie-ins to the existing stormwater infrastructure, as well as the installation and use of temporary staging areas and temporary access roads.
Project Facts
County of Clallam
Sequim, Washington
Project site along 396 acres of the Dungeness River
Stakeholders included the County, Department of Archaeology and Historic Preservation, Governor's Office of Indian Affairs, and concerned tribes
The Challenge
Low river flow in the Dungeness River is a significant limiting factor for four ESA-listed fish species, including the Puget Sound Chinook, Hood Canal Summer Chum, Puget Sound Steelhead, and bull trout. In low-snowpack years, there is not enough flow in the river to support salmon and meet the irrigation needs of the Dungeness Valley. Clallam County proposed to create an off-channel reservoir to store water during winter and spring when flows are plentiful, saving this water for later in the year when river flow is low.
The Solution
The Dudek team successfully worked closely with Clallam County, the Department of Archaeology and Historic Preservation, the Governor's Office of Indian Affairs, and concerned tribes to complete a cultural resource investigation of the project area. Dudek's experts conducted background research, completed a literature review, completed a field survey for archaeological and aboveground historic resources, and made recommendations regarding the project's potential to affect cultural resources.
The Impact
The project will improve and maintain the current Dungeness Valley irrigation network, create a climate-resilient water supply, capture stormwater, and prevent flooding in the City of Sequim, to provide opportunities for aquifer recharge and create a new park to provide area residents with expanded recreation activities.
Dudek Project Manager Zach Windler says, "Working with and being a part of this effort to restore streamflow to the Dungeness River Valley was incredible. It was wonderful to assist a project that has such foresight to provide climate resiliency for people, farms, and fish in Clallam County"
What We Did
Our multidisciplinary specialties allow us to provide efficiencies that maintain project momentum.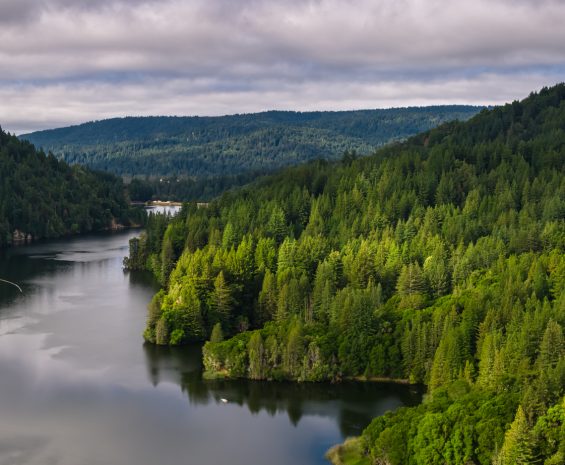 Next Project
Newell Creek Dam Inlet/Outlet and Pipeline Replacement
The City of Santa Cruz Water Department proposed a major capital improvement project to replace an existing dam inlet/outlet works at the Newell Creek Dam with a new intake, outlet features, and pipeline to convey water from an existing river intake, to reservoir, and from the reservoir to the City's water treatment plant.
View Project