/
/
/
North Fork Touchet River Phase II Habitat Restoration
North Fork Touchet River Phase II Habitat Restoration
The Confederated Tribes of the Umatilla Indian Reservation (CTUIR) Fisheries planned to restore hydrologic connectivity, floodplain processes, and riparian habitat along river miles 1.6–2.7 (20 acres) of the North Fork Touchet River, near the community of Baileysburg, Washington. The project was subject to Section 106 of the National Historic Preservation Act, and the Bonneville Power Administration was the lead agency. The Dudek team completed a cultural resources investigation to complete the permitting process for the project.
Project Facts
Baileysburg, Washington
Restored 20 acres of North Fork Touchet River
Subject to National Historic Preservation Act
The Challenge
The CTUIR proposed stream habitat restoration project activities, which included the removal of an existing 1995-constructed levee and rebuilding a setback levee south of its current location, removal of an irrigation system pump location adjacent to the levee, installation of large wood structures and willow and cottonwood baffles, and revegetation of the riparian and upland forest.
The Solution
The Dudek team worked closely with multiple stakeholders for the restoration project, including BPA, the CTUIR Fisheries, the Department of Archaeology and Historic Preservation, and Inter-Fluve. Dudek provided archaeological monitoring during the construction phase of the restoration project and made recommendations regarding the project's potential to affect cultural resources. The project was completed on time to meet permitting and construction timelines and on budget.
What We Did
Our multidisciplinary specialties allow us to provide efficiencies that maintain project momentum.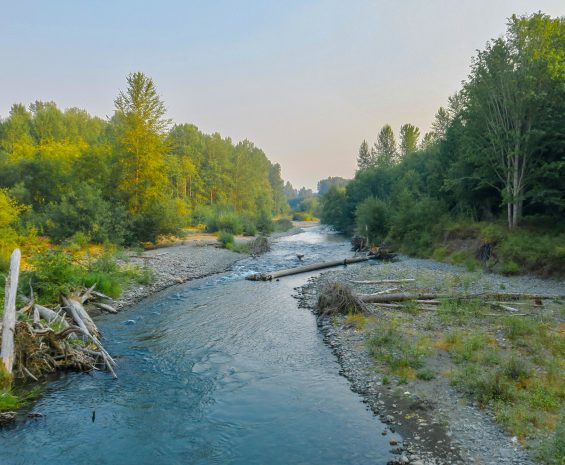 Next Project
Dungeness River Flow Restoration and Aquifer Recharge Off-Channel Reservoir
Clallam County proposed to restore streamflow to the Dungeness River with the creation of an off-channel reservoir on two Washington Department of Natural Resources-owned parcels. Dudek provided cultural resources surveys in support of the Dungeness River flow restoration, which required the installation of new water pipelines and tie-ins to the existing stormwater infrastructure, as well as the installation and use of temporary staging areas and temporary access roads.
View Project