A small packaged wastewater treatment plant designed to serve a regional medical center significantly improved the quality of treated effluent, and was completed under-budget, enabling the medical center to add a connection from the new plant to a nearby elder care center.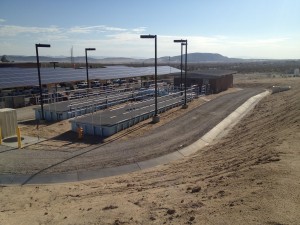 The Hi-Desert Medical Center (HDMC) and the Joshua Basin Water District (JBWD) jointly developed the treatment facility to replace the medical center's aging on-site septic system and increase capacity to support a 23,500-square-foot hospital expansion.
Integral to the design was meeting JBWD's groundwater protection standards for nitrate contaminants and the Colorado River Basin Regional Water Quality Control Board's waste discharge requirements for new developments.
The water district requires package treatment facilities for certain new developments under a wastewater treatment strategy it developed, with the help of Dudek engineers, to reduce nitrate discharges to the local groundwater basin. In addition, JBWD collects fees from the new developments for planned regional collection and treatment facilities to replace the interim package facilities.
Dudek engineers designed a conventional activated sludge treatment facility for its ability to produce quality effluent while eliminating the need for expensive and problematic chemicals. Within one month of operation, the effluent water quality was within permit levels. Most notably, biological oxygen demand was reduced from 300 milligrams per liter (mg/l) to non-detect. Total nitrogen was reduced to 6.2 mg/l, nearly 40% below the 10 mg/l permit level.
After completing the design, Dudek provided biddable construction documents for JBWD's to solicit construction bids. Dudek served as construction manager for the district and the project was completed ahead of schedule and under budget.
"Very few modifications to the original engineering design were required during construction," said Mike Metts, the Dudek project manager.
The medical center used the cost savings to design and construct a new sewer connection to a local elder care facility. Connecting the new sewer system improved service reliability for the elder care facility and reduced operating costs by replacing the problematic septic system.
Dudek currently is designing a similar packaged treatment plant that will serve a proposed casino in neighboring Twentynine Palms.
For more information, contact Mike Metts at mmetts@dudek.com or 760.479.4111