The U.S. Forest Service (USFS) and California Public Utilities Commission (CPUC) recently completed a complex, nearly 4-year process to craft an EIR/EIS that addresses the combined issuance of 70 separate permits for SDG&E's electric facilities located in the 800-square-mile Cleveland National Forest (CNF) within San Diego and Orange Counties.
The document also analyzes the combined effects of fire hardening 11 separate power lines within and outside the CNF.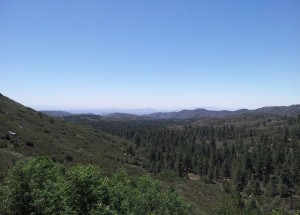 The project is needed to continue electric service to a variety of users and reduce the risk of power-line-related wildfires, while maintaining the scenic and ecological integrity of the CNF and surrounding areas.
Managing Complex Projects
Dudek Principal John Porteous led the collaborative approach, which balanced diverse priorities of multiple stakeholders. Porteous outlined 3 steps to success for managing projects of this magnitude:
Craft a logical and comprehensive document that is readable by the public, decision-makers, and professionals alike. Wherever possible, summarize necessary information, present key points graphically, and utilize the project website to provide more detailed explanation.
Ensure documentation and data are presented adequately, reliably, and thoroughly. Utilize tables and cite references to convey supplemental information that bolsters project analysis.
Balance multiple priorities in analysis and data presentation. Understand multiple stakeholder viewpoints, and ensure the environmental document addresses the significant issues of all collaborators.
Balancing Priorities to Develop Workable Solutions
The CNF effort was challenging due to the need to balance multiple priorities of several agencies, land owners, the public, and the client in order to address the project's goal to ensure continued operation and maintenance of SDG&E's electric facilities, public safety, and resource protection.
"Key to successfully balancing these multiple priorities was our team's ability to develop solutions that resolved conflicting priorities," Porteous said. "Our approach was to be aware of the issues and requirements, address and resolve conflicts with available data, and inform and obtain consensus with key stakeholders through an established, regular communication process."
Dudek completed and distributed the Master Special Use Permit and Permit to Construct Power Line Replacement Projects Final EIR/EIS on July 10, 2015. Dudek is currently supporting the USFS and CPUC in their decision process, and will oversee mitigation compliance monitoring over the 4-year construction period.
Recently, the EIR/EIS received a Meritorious Award as an outstanding environmental analysis document by AEP's San Diego chapter.
---
John Porteous is a principal with more than 30 years' experience preparing CEQA/NEPA environmental documentation. For more information, contact him at jporteous@dudek.com or 760.479.4250.