/
/
/
SANDAG Interstate-5 North Coast Corridor PWP/TREP Environmental Support Services
SANDAG Interstate-5 North Coast Corridor PWP/TREP Environmental Support Services
In collaboration with SANDAG, Dudek helped develop a Public Works Plan (PWP)/Transportation and Resource Enhancement Program (TREP) for the North Coast Corridor (NCC) in San Diego. The plan, approved in 2014, aims to improve transportation and coastal resources through a $6-billion 40-year program. Dudek's role included preparing Notices of Impending Development and Coastal Development Permits for California Coastal Commission approval, resulting in projects that enhance mobility, coastal access, and protect natural resources in North County.
Project Facts
SANDAG
Interstate-5 North Coast Corridor throughout San Diego County
Interstate Improvements from La Jolla to Oceanside
Rail Track and Station Improvements
Triple-Award-Winning Project from APWA and ASCE
The Challenge
Since the northern San Diego County area was developed surrounding the rail line over 100 years ago, the NCC has become an increasingly important transportation lifeline for the region. As the population has increased, users of the NCC have experienced significant congestion, increased travel times, decreased reliability, and limited travel choices.
Implementation of the PWP/TREP over the next 40 years will create a balanced multimodal system and enhanced coastal environment through significant rail and highway infrastructure improvements; enhanced and newly established bicycle and pedestrian coastal access routes; and preserved, restored, and enhanced sensitive coastal habitat through significant water quality, lagoon, and natural habitat improvements.
The Solution
Dudek's coastal planners facilitated the preparation and processing of the Public Works Plan (PWP), Local Coastal Program (LCP) amendments, and federal consistency review analysis for the transportation improvement program. The PWP offers a comprehensive permitting program to obtain California Coastal Commission (CCC) approval for the proposed improvements, while LCP amendments establish policy frameworks for plan implementation. The PWP/TREP and associated LCP amendments were unanimously approved by the CCC in August 2014. Dudek continues working with SANDAG and Caltrans to support project implementation, with several projects completed, under construction, and more planned for the future.
The Impact
The Build North Coast Corridor project received the following awards:
Outstanding Transportation Project from the American Society of Civil Engineers San Diego Section
Project of the Year from the American Society of Civil Engineers San Diego Section
Project of the Year from the American Public Works Association San Diego and Imperial Counties Chapter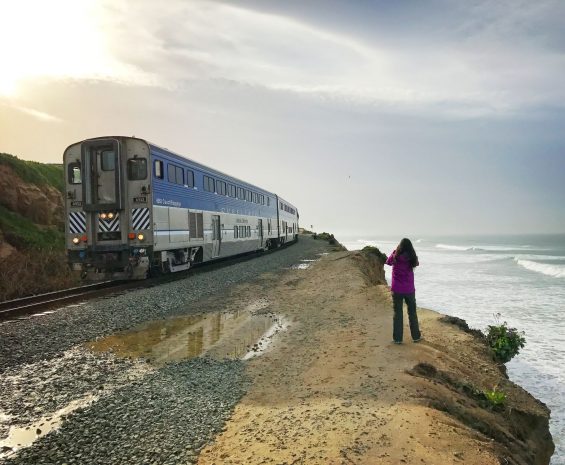 Next Project
SANDAG Regional Transportation Infrastructure Sea-Level Rise Assessment and Adaptation Guidance
To address the risk to transportation infrastructure caused by sea-level rise, the San Diego Association of Governments (SANDAG) sought to assess sea-level rise risks throughout the San Diego County region and plan for climate change adaptation. Dudek evaluated the region's vulnerability using models and crafted a robust, visually engaging document to guide future sea-level rise adaptation efforts.
View Project