/
/
/
San Diego Gas and Electric Master Special Use Permit and Permit to Construct Power Line Replacement Projects
San Diego Gas and Electric Master Special Use Permit and Permit to Construct Power Line Replacement Projects
SDG&E undertook a power line replacement of nine 12- and 69-kilovolt (kV) electric facilities spread throughout an approximate 880-square-mile area in eastern San Diego County, within and around the Cleveland National Forest (CNF). Power line replacement included fire-hardening, relocating, and undergrounding facilities along 145 miles.
Project Facts
California Public Utilities Commission
Project area within and around Cleveland National Forest
145 miles of power lines
Combined 70 individual permits into single Special Use Permit
Replaced 2,100 wood poles with weatherized steel poles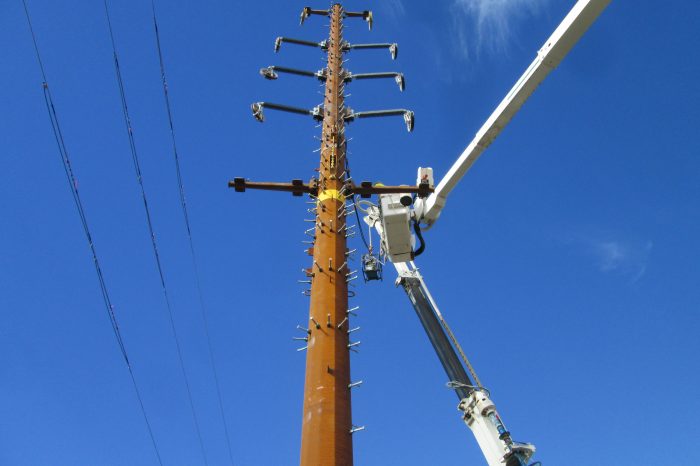 The Challenge
The CPUC needed to issue a Permit to Construct (PTC) for the purposes of project construction, which required environmental review under the California Environmental Quality Act. The USFS needed to issue a Master Special Use permit to consolidate SDG&E's individual permits for operating and maintaining its facilities in the Cleveland National Forest (CNF), which required environmental review under the National Environmental Policy Act. The challenge was developing a joint CEQA/NEPA document for the CPUC and USFS as lead state and federal agencies who operated under a Memorandum of Understanding, as well as monitoring compliance with the project's Mitigation Monitoring and Reporting Program during construction.
The Solution
Dudek provided expertise during the project's environmental review/permitting phase and construction phase. The EIR/EIS provides an evaluation of the environmental impacts associated with the combined issuance of 70 separate permits for SDG&E electric facilities located within the 800-square-mile Cleveland National Forest study area, as well as the combined effects of fire hardening and replacing 11 separate SDG&E power lines located within and outside the CNF. Throughout construction, Dudek compliance monitors undertook duties including processing requests for construction and minor project refinements, reviewing pre-construction submittals, as well as resolving compliance issues.
What We Did
Our multidisciplinary specialties allow us to provide efficiencies that maintain project momentum.