/
/
/
Axton Solar Project
Axton Solar Project
The Axton Solar Project in Virginia includes the construction and operation of a 200-megawatt solar energy facility that can supply electricity to meet existing and future electricity demands including on-peak power periods. The project will assist in achieving Virginia's Renewable Portfolio Standard (RPS). It will also support the local economy by investing in the community, creating construction jobs, and increasing tax revenue.
Project Facts
Axton Solar LLC
Counties of Henry and Pittsylvania, Virginia
2,393 acres of solar panels
200-MW of energy
Potential to power 20,000 Virginia homes
The Challenge
The Axton Solar project spans two counties, and is one of the first utility-scale solar projects in Henry County, Virginia, requiring an efficient and effective permitting strategy. Additionally, internet access in the project area is not widespread, and due to timing, outreach required navigating pandemic-related restrictions on in-person meetings in two counties.
The Solution
Dudek forged relationships with and addressed concerns of local planning and development staff to facilitate special use permit (SUP) application submittals and ensure successful permit attainment. The team also conducted public outreach in such a way as to address concerns regarding meeting access. Dudek's graphic designers crafted engaging postcards and our web design team developed the Axton Solar project website to engage the local community. The outreach team hosted two separate meetings for residents of each county, ensuring local concerns were heard and addressed. Dudek archaeologists also conducted surveys of the project area.
A Project for a Cleaner Virginia
Our Media Production team produced, filmed, and edited this video to support the client's public outreach efforts.
What We Did
Our multidisciplinary specialties allow us to provide efficiencies that maintain project momentum.
Conceptual Site Plan preparation
Landscape Screening Plan
Project Website development
Special Use Permit application packages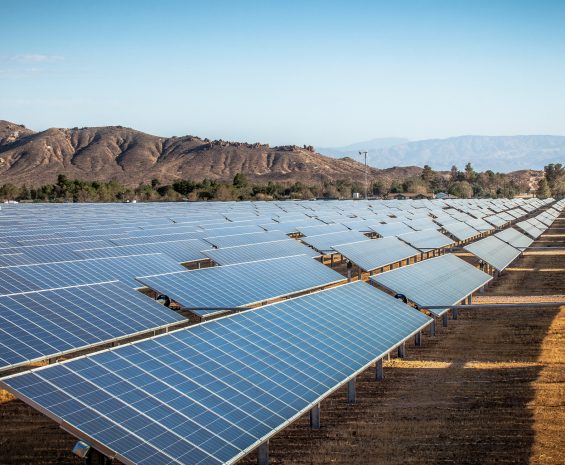 Next Project
Edwards Sanborn Solar Storage Facility
The Edwards Sanborn Solar Storage Facility aims to be the world's largest solar-plus-storage project. The project is located in Kern County, on land leased from Edwards Air Force Base as well as on adjacent private land. Once built, the project could have a capacity of up to 1,118MW of solar photovoltaic (PV) and 2,165 megawatts per hour (MWh) of battery storage.
View Project