/
/
/
The Shire Cultural Resources Inventory and Evaluation
The Shire Cultural Resources Inventory and Evaluation
The Shire is a John Yeon, national register-eligible, historic-designed landscape located along the north shoreline of the Columbia River, directly across from Oregon's Multnomah Falls. Dudek completed a Cultural Landscape Report to provide the University of Oregon with management protocols and treatments for the long-term preservation and protection of The Shire following storm damage during the winter of 2017.
Project Facts
University of Oregon
Skamania County, Washington
75-acre project site
The Challenge
The Shire, one of the Columbia River Gorge's most beautiful, planned landscapes, suffered from erosion along the riverbank after the particularly harsh winter of 2017. Emergency shoreline restoration was necessary to preserve the historic landscape and protect the resource from future weather-related damage.
The Solution
The Dudek team worked closely with multiple stakeholders, including FEMA, the Columbia River Gorge Natural Scenic Area, Skamania County, the Department of Archaeology and Historic Preservation, the University of Oregon, and Inter-Fluve, to complete Cultural Resource Investigations as part of the permitting process for the proposed shoreline restoration.
Following a finding of adverse effect, the Dudek team assisted with mitigation efforts and completed a Cultural Landscape Report for the Shire. This report provides the University of Oregon with management protocols and treatments for the ongoing preservation, as well as protection strategies for John Yeon's National Register of Historic Places-eligible designed landscape.
Illustrating Multifaceted Data
Dudek's technical storytelling team created multiple maps illustrating various features of The Shire John Yeon Preserve.
What We Did
Our multidisciplinary specialties allow us to provide efficiencies that maintain project momentum.
Compliance reporting
Technical Storytelling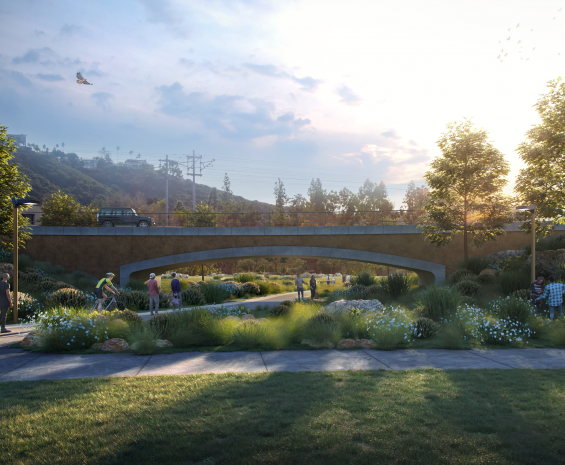 Next Project
City of San Diego Stadium Wetlands Restoration
The Stadium Wetlands Restoration is a 57-acre advanced permittee-responsible compensatory mitigation project that generates wetland mitigation credits for use by the City of San Diego. Dudek oversaw project installation and also conducted restoration monitoring during the five-year maintenance and monitoring period on behalf of the City.
View Project