/
/
/
SDSU Mission Valley Campus Master Plan
SDSU Mission Valley Campus Master Plan
San Diego State University (SDSU) sought to develop a world-class university campus, research center and stadium venue on the site of the SDCCU Stadium in Mission Valley. A multidisciplinary consultant team prepared the master plan for the campus, including planning, technical analysis, CEQA document preparation, permitting support, and construction compliance.
Project Facts
83 acres parks, recreation, open space
35,000-capacity multi-use stadium
4,600 apartment homes
1,565,000 SF University and office uses
95,000 SF neighborhood commercial
400 hotel rooms
The Challenge
The existing 172-acre site experiences occasional flooding from Murphy Canyon Creek and the San Diego River during major rain events, and otherwise contributes runoff to the San Diego River without the latest BMPs and treatment controls due to the impervious nature of the parking lot. The Site also includes a 72,000-seat capacity stadium, parking lot, and MTS trolley station in close proximity to the San Diego River and an energy terminal. Due to the location and resources present on the site, extensive permitting was required from FEMA, USACE, the San Diego RWQCB, and CDFW.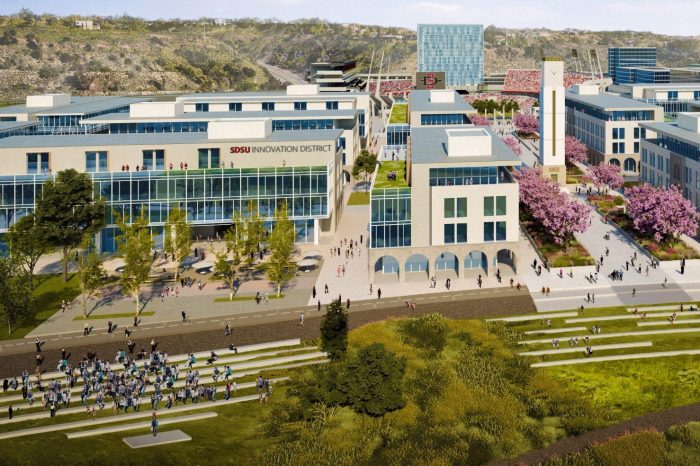 The Solution
Working with an award-winning team, Dudek integrated design and environmental considerations to achieve SDSU's vision for the future expansion of a 15,000-student Innovation Village. Dudek prepared an array of resource studies including biological, cultural, paleontological, and historic/built environment; verified climate action plan consistency; and prepared noise reports; as well as integrated additional technical analyses into the EIR. Mitigation measures were recommend, and Dudek is overseeing implementation of the MMRP, including construction compliance and additional FEMA processing to secure Letters of Map Revisions. Our permitting experts are leading the wetlands permitting effort to mitigate for impacts to the San Diego River and Murphy Canyon Creek drainage.
What We Did
Our multidisciplinary specialties allow us to provide efficiencies that maintain project momentum.