/
/
/
Burbank Complete Streets Plan
Burbank Complete Streets Plan
"Complete Our Streets" is the City of Burbank's Complete Streets Plan for future street improvements citywide. Funded by a Sustainable Communities Grant from Caltrans, the Plan implements the City's General Plan Mobility Element and identifies goals, policies, guidelines, and an implementation plan for future right-of-way projects. The Plan prioritizes and locates improvements to connectivity, access, and safety in areas of greatest need first—Burbank's downtown core, disadvantaged communities, transit districts, and neighborhood schools.
Project Facts
City of Burbank
Los Angeles County, California
280+ miles of city streets analyzed
7 community outreach events held
Received Transportation Planning Merit Award from APA LA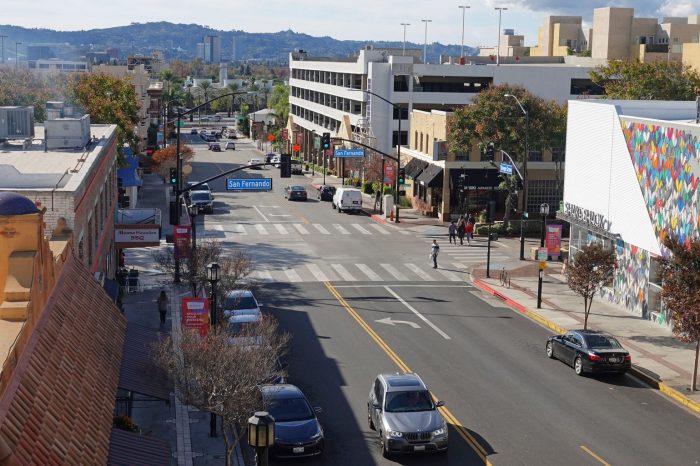 The Challenge
From their design and engineering to shaping public perceptions about use and safety, streets in Burbank like those in other US cities have for too long prioritized the needs of the automobile over that of people. Acknowledging that public rights-of-way (ROWs) are a finite and contested resource, Burbank's "Complete Our Streets" Plan needed to balance the competing needs of all street users across modes, ages, and (dis)abilities. Although complete streets initiatives are traditionally viewed as attempts to address mobility issues of speed, safety, and access, the City sought to go beyond and design the public realm to reflect its role as a critical component in shaping successful, vibrant, and welcoming places.
The Solution
Designing Streets for Users of All Ages and Abilities
Dudek's urban planners and designers crafted the Plan, which is essentially a guidebook for transportation improvements, while also examining the interplay between the public realm and built form. The Plan analyzes the 280-mile city street network to propose improvements via prioritized projects that address the needs of pedestrians, bicyclists, transit riders, and motorists, as well as users of emerging technologies like electric scooters and rideshare apps. In partnership with Kerns & West, we created an innovative outreach plan that placed most public engagements outdoors in the public realm among the City's streets and parks and at farmers markets, art festivals, as well as guided walk and bike tours.
What We Did
Our multidisciplinary specialties allow us to provide efficiencies that maintain project momentum.