Benefits
We empower our employee-owners to Du More ™ for our clients and communities. In turn, we do more by offering robust benefits that support your total well-being. From health plans to keep you feeling your best to retirement options that help you stay safe and secure, our benefits have you covered.
Du More for your Health
To do your best work, you need to be your best self, so we offer Dudekians a comprehensive array of valuable benefits to protect their health, family, and way of life.
Medical, Dental, and Vision. We offer coverage to suit various needs, no matter your life stage or circumstances.
Accident, Hospital, and Critical Illness Coverage. Employees can enroll for voluntary coverage in the case of an accident, hospital admission, or critical illness diagnosis.
Health Savings and Flexible Spending Accounts. Set aside pre-tax dollars to save for eligible healthcare expenses.
Annual Healthcare Funds. We contribute up to $1,300 annually so you can offset your healthcare spending, including for things like acupuncture, naturopathy, chiropractic, and more!
Wellness Programs. From virtual yoga and meditation classes to an Employee Assistance Program (EAP) and affordable mental health services to support your overall health and quality of life.
DuWell
Offering you tools for total wellness
DuWell is our wellness initiative, aimed at providing education on wellness, benefits resources, and preventive care. DuWell is focused on overall health and supports full-time Dudekians in promoting work-life balance while taking full advantage of benefit offerings. Through in-person and virtual events, regular firmwide wellness challenges, video series, and newsletters, Dudekians are given tools to thrive both at work and at play.
Du More with your Money
We give you options to facilitate financial security and peace of mind through compensation, tax-advantaged saving, investing, and insurance including:
Employee Stock Ownership Plan (ESOP). Dudek is 100% employee-owned, meaning we all contribute to and share in Dudek's success. The ESOP is another retirement plan, completely funded by Dudek.
401k with discretionary match. Invest in your future and access planning and education tools to ensure you're on track.
Bonus opportunities. We offer the opportunity to share in Dudek's success through discretionary bonuses, based on firmwide, divisional, and individual performance.
Company-provided and Voluntary Life, AD&D, and Long-Term Disability insurance. There's no telling what the future holds, but with various options to protect your family and loved ones, you can rest a bit easier.
Parking and Transit Accounts. Set aside pre-tax dollars to help pay for work-related transit and parking expenses.
Dependent Care Flexible Spending Account. Set aside pre-tax dollars to save for eligible dependent care expenses.
Employee Ownership
Hear from our employee-owners
Employee ownership provides an equitable means for profit sharing and wealth-building over time for all Dudekians, who contribute to our firm's success. Each year, Dudek contributes funds to a separate retirement account for all eligible employees.  Contributions vest incrementally over 5 years and, once fully vested, are yours to keep. Learn more about what employee ownership means.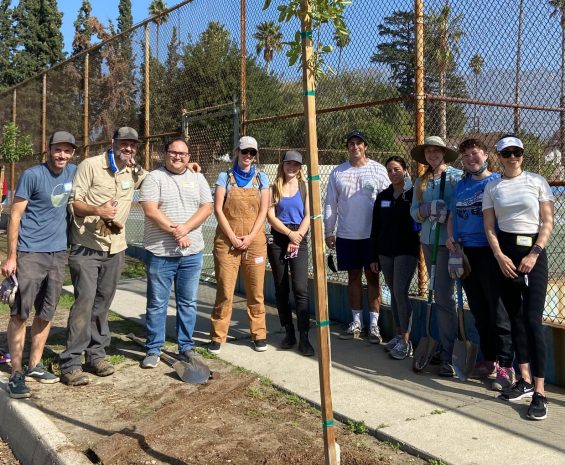 Du More with your Time Off
Downtime is vital for a balanced life. We're committed to supporting Dudekians in pursuing work–life balance, so we provide multiple ways and days for you to take time away.
Vacation. Rest, recharge, play; the time is yours! We offer a flexible Paid Time Off policy for full-time, salaried (exempt) staff to encourage you to take the time you need when you need it. Full-time, hourly (non-exempt) staff accrue paid time off each pay period, starting at three weeks per year.
Holidays. We recognize six standard holidays for all employees and hourly employees get an additional three floating holidays, so you can celebrate the occasions that mean the most to you.
Sick. Illness and injuries happen, but with sick leave, you don't have to worry about the impact of illness on your work.
Volunteer. Giving back can be energizing! We offer one day of paid time off each year for you to volunteer with a charity of your choice.
Get Time to Give Back
Giving to employees and the community through our staff service appreciation program
Dudek's Staff Service Appreciation program honors employee milestones by partnering with non-profit organizations to plant trees where needed most in their communities. Staff celebrating milestones have the opportunity to take a paid day off to take part in planting events each year.
Du More with your Colleagues
Dudekians work hard and have fun! We offer opportunities to socialize and decompress with colleagues, including:
Office and team-building events. Get together, virtually or in person to socialize with your department and local colleagues.
Fitness and wellness activities. We gather virtually weekly to decompress with yoga, meditation, and more!
Firmwide gatherings. We celebrate the seasons with annual parties in the summer and at the end of the year, as well as periodic gatherings throughout the year.
Du Something Fun
Encouraging Dudekians to gather with colleagues to do something fun!
Du Something Fun is our firmwide initiative to bring Dudekians together to strengthen our culture, build relationships, and have fun! Whether connecting virtually as an office to learn origami, gathering in person as a team to make terrariums, or getting together as a firm for Grill Club at our headquarters, we encourage staff to take time to have fun!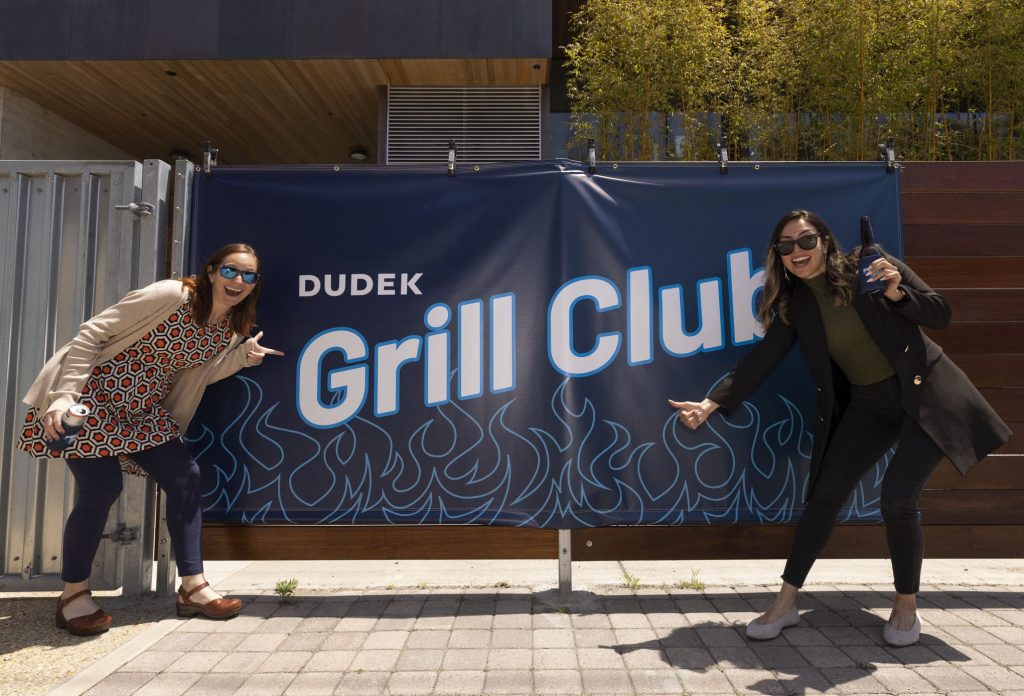 Benefits at a Glance
We know your situation outside of work may change, so we offer the flexibility to move between full-time, part-time, and as-needed employment. Here's a snapshot of the benefits offered for each designation.
Full Time
Consistent schedule; typically 40 hours per week
Healthcare Benefits
Health, Dental, and Vision coverage
Accident, Hospital, and Critical Illness Coverage
Health Savings and Spending Accounts
Up to $1,300* in Healthcare Funds, Annually
*Pro-rated in the first year based on hire date
Financial Benefits
ESOP (pending eligibility)
401(k) with Discretionary Company Match
Discretionary Bonus Opportunities
Short- and Long-Term Disability Insurance
Company-Provided Life and AD&D Insurance
Voluntary Supplemental Life and AD&D Insurance
Dependent Care Saving/Spending Accounts
Pre-Tax Transit and Commuter Saving/Spending Accounts
Time-Off Benefits
Salaried (Exempt) Employees
Flexible Paid Time Off; take the time you need
One Paid Day Off to Volunteer
Paid Leave for Jury Duty and Bereavement
16 Hours of Inclement Weather Pay
40 Hours of sick leave
Hourly (Non-Exempt) Employees
15+ Days of Vacation (Based on Tenure)
Six Paid Standard Holidays
Three Paid Floating Holidays
One paid day off to Volunteer
Paid Leave for Jury Duty and Bereavement
16 hours of Inclement Weather Pay
40 Hours of Paid Sick Leave
Part Time
Consistent schedule of up to 29 hours per week
Financial Benefits
ESOP (pending eligibility)
401k with Discretionary Company Match
Time-Off Benefits
Up to 18 Days* of Paid Vacation (based on tenure)
Up to Six* Paid Standard Holidays
Up to Three* Paid Floating Holidays
24 Hours of Paid Sick Leave
*Prorated based on scheduled weekly hours
As Needed
Fully variable schedule from week to week
Financial Benefits
ESOP (pending eligibility)
401k with Discretionary Company Match
Time-Off Benefits
24 Hours of Paid Sick Leave