Reservoir Siting, Design, and Rehabilitation
Water storage is critical to the reliability of city and water district day-to-day operations, fire protection, and emergency water supply. Dudek helps clients determine the most efficient storage method, which can also reduce the cost of water supply production facilities such as wells, transmission pipelines, and treatment facilities.
From Siting to Construction
Our engineers help water districts and cities evaluate alternatives efficiently and thoroughly to save design and construction time and costs. Beginning with 3D simulations, we help you consider factors to determine facility locations, including elevation, geotechnical suitability, visual impacts, cost and maintenance requirements, accessibility, security, safety, hydraulic controls, water quality, and storm water mitigation due to the increased impervious ground surface. We also help assess facility rehabilitation focusing on external material deterioration, wall penetrations, foundational issues, geotechnical settling, and seismic code updates. Often the opportunity to enhance controls, metering, SCADA, access and security are included in the rehabilitation process.
Clients Served
Cities, including Anaheim, Coachella, Corona, Oceanside, Redlands, San Bernardino, and Santa Maria
Water districts, including Coachella Valley, Eastern Municipal, Irvine Ranch, Joshua Basin, Rainbow Municipal, Ramona Municipal, Temescal Valley, and Valley Center Municipal
Other entities, including Inland Empire Utility Agency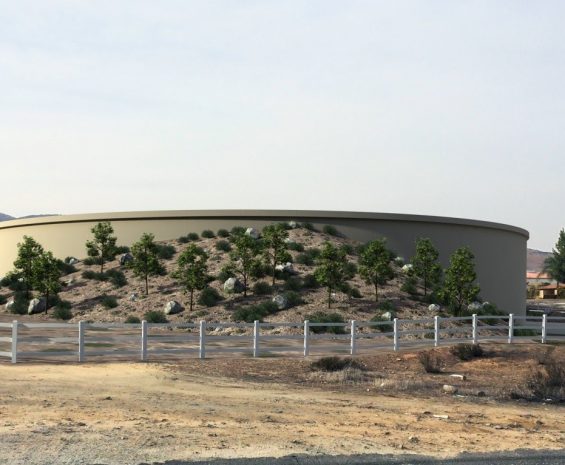 Project Highlights
Goetz Road Tank Preliminary and Final Design, Eastern Municipal Water District
Reservoir Rehabilitations, City of Oceanside
Seismic Retrofits Design for 13 Reservoirs, City of San Bernardino Municipal Water Department
What We Do
Our multidisciplinary in-house specialties allow us to provide efficiencies that maintain project momentum.
Bolted or Welded Steel Reservoirs
Chlorination Systems
Dam Design
Earthen Storage/detention Reservoirs
Planning and Design
Pre-Stressed Concrete Reservoirs
Rehabilitation
Seismic retrofit
Project Support
Condition Assessment
Cost Estimating