Pipeline Alignment Analysis and Design
Water conveyance infrastructure, particularly potable water and wastewater pipelines, are critical to the health, safety, and prosperity of society. Our engineers have supported the planning, modeling, alignment analysis, and final design of water, gravity sewer, force main, recycled water, brineline, and stormwater pipelines for more than 35 years. With a wealth of experience with all types of pipeline materials, sizes, and construction methods, we have the tools to address both typical installations and unique circumstances.
Out of Sight, but Critical to Life
Our engineers help you install buried pipelines by performing alignment and hydraulic analysis to select the best location and correct size pipe that will accommodate future growth. We use our knowledge of the subsurface conditions, vicinity to neighboring utilities, and proximity to traffic to streamline the process and craft designs that accommodate site constraints and necessary access points. We specialize in water-related pipeline infrastructure for:
Potable water
Recycled water
Wastewater/sewer gravity and force mains
Brineline/treatment effluent/outfall pipelines
Stormwater
Clients Serviced
Cities, including Anaheim, Carlsbad, Coachella, El Centro, Encinitas, Escondido, Indio, Laguna Beach, Newport Beach, Oceanside, Placentia, Poway, San Clemente, Solana Beach, and Vista
Water districts including Borrego, Coachella Valley, Eastern Municipal, Helix, Irvine Ranch, Joshua Basin, Las Virgenes County, Leucadia County, Moulton Niguel, Rainbow Municipal, Ramona Municipal, Rincon Del Diablo, San Dieguito, South Coast, Temescal Valley, and Yucaipa Valley
Other entities, including Chino Basin Desalter Authority, Crestline Sanitary District, Inland Empire Utility Agency, Jacumba Community Services District, Southern California Edison – Mountainview Power, Orange County Sanitation District, San Diego County, San Elijo Joint Powers Authority, Valley Sanitary District, and Victor Valley Water Reclamation District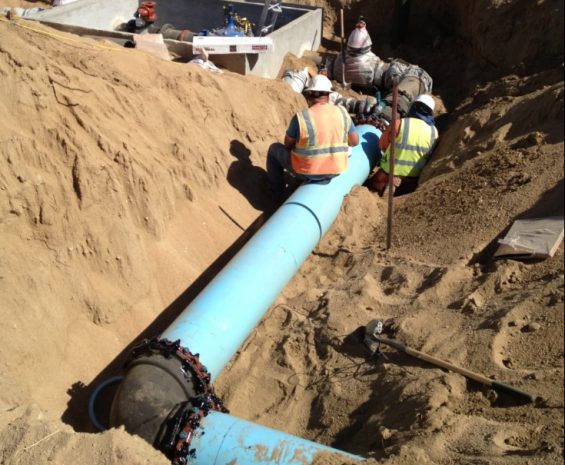 Project Highlights
San Sevaine Basin, Inland Empire Utility Agency
Newport Boulevard, Irvine Ranch Water District
Downtown Center, South Coast Water District
What We Do
Our multidisciplinary in-house specialties allow us to provide efficiencies that maintain project momentum.
Potable Water Pipeline Design
Recycled Water Pipeline Design
Sewer/Wastewater Pipeline Design
Stormwater Pipeline Design
Alternative Analysis
Bidding and Contract Support
Funding Assistance
Right-of-Way Engineering
Risk Assessment
Subsurface Engineering/Utility Research
Project Support
Condition Assessment
Cost Estimating