Graphic Design and Visual Communications
Our designers create engaging graphic design and visual communications that translate technical subjects and marketing messages effectively. We specialize in developing creative and powerful products that communicate complex information to a variety of audiences through graphics, audio/visual, and printed materials.
Striking Visuals Bring Concepts to Life
Our high quality visuals invite readers' attention and engage them with easy-to-understand renderings of complex systems and processes. Using design principles, such as color theory and spatial layout, we tailor each design to your unique needs. Our designers employ the latest graphics, animation, and video technologies to bring projects to life through visual storytelling.
A hydrogeological conceptual model of a portion of the San Diego River Valley Groundwater Basin, developed to evaluate potential water resources impacts from a proposed sand mine. The depth of excavation was developed to avoid mining below the groundwater table, thereby eliminating direct evaporation from surface water.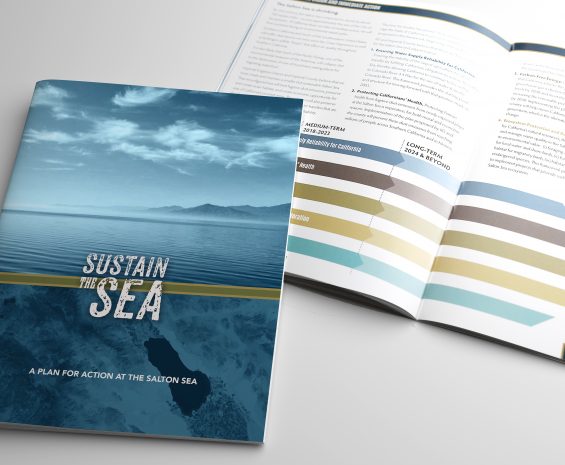 Custom Graphics Engage Your Stakeholders
Our team designs PowerPoint and video presentations that are customized to your brand to provide a seamless experience for trainings and public outreach. We create environmental graphics, such as interpretive panels, directional signage and information kiosks, including material selection and construction specifications. Our graphic designers are also skilled in the arts of photography, video production, motion graphics, and website and online media development.
Animated GIF showing the location of various habitat types throughout the County of San Bernardino
What We Do
Our multidisciplinary in-house specialties allow us to provide efficiencies that maintain project momentum.
Advertising
Brand development/implementation
Brochures
Design, layout, and production of printed collateral materials
Illustrative and dynamic mapping
Infographics, diagrams, and icon development
Interpretive signage and wayfinding programs
On-location photography and video production, processing and editing
Poster displays, PowerPoint, and Prezi slideshows
Print and online newsletters
Video trainings
Project Support