Graphic Design and Page Layout
Dudek's Design and Layout team helps strategize purpose-driven graphic design and an accompanying suite of collaborative visual communication tools that deliver high engagement. We are experienced in creating physical and digital materials for both the public and private sectors in multiple disciplines, so your audience can visually digest your message.
Design that Engages your Audience
Our team of creative and technically skilled graphic designers are adept in the creation of logos and branding, digital and print page layout, social media graphics, outreach materials, presentation and template design, signage and tradeshow banners, creative illustration, and specialty graphics. In addition, we are experienced in utilizing multi-language translation and ADA compliance for accessibility and inclusivity.
We developed project branding and a suite of associated collateral for the California Department of Water Resources' Prop 68 Technical Assistance Program. This included various outreach materials such as brochures, posters, PowerPoint presentations, educational materials, and custom illustrations.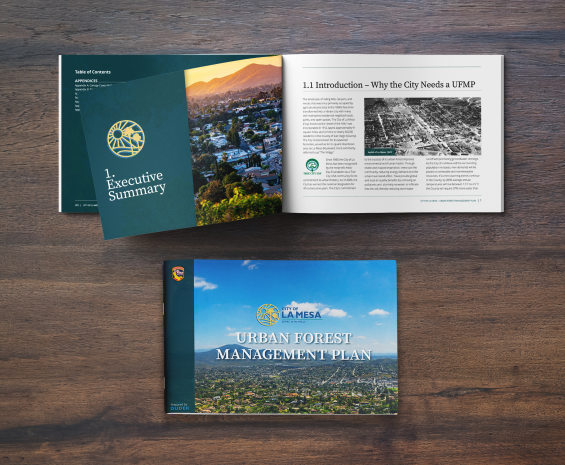 Striking Digital and Print Page Layout
A stunning page layout turns a run-of-the-mill document or report into a piece that prompts engagement. Before undertaking design, we consider the target audience and brainstorm how best to communicate the core message. We then use classic graphic design principles, including balance, white space, typography as an art form, hierarchy, consistency and alignment, color theory, and an overall gestalt to create a beautiful and easily digested product.
We specialize in digital and print, creating multi-page layouts for urban forest management plans, safety/environmental justice/housing plans, and master plans with as many as 1,000 pages. Additionally, we design marketing collateral and education and outreach materials to support community engagement.
A beautifully designed page layout elevates your work product.
Creative Collaboration Yields DWR Native American Tribal Water Stories Graphic Novels
Our Design and Layout and Technical Visual Storytelling teams storyboarded and illustrated two print and digital graphic novels, The Fish Story and The Making of the World, depicting water-related Tribal stories submitted by Tribal Representatives for the Prop 68 Technical Assistance Program. Learn more about our work on the DWR Tribal Water Stories Graphic Novels.
What We Do
As part of a robust Creative department, the Design and Layout team collaborates with our Technical Visual Storytelling and Media Production teams to produce a comprehensive suite of engaging visual products that we can produce in our in-house Publications department.
Branding, logo, and style guide development
Creative illustration
Digital and print page layout
Infographic and specialty graphics
Multiple-language translation and ADA compliance
Outreach materials
Presentation design
Signage, wayfinding, banners
Social media graphics
Template creation (PowerPoint/Word/InDesign)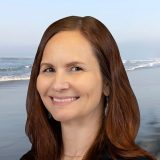 Melanie Betlach
Design and Layout Services Manager
"I support our team of talented graphic designers to curate purpose-driven graphic products that span the spectrum of visual applications. I'm passionate about elevating our clients' work products by analyzing project goals, target audience, market sector conditions, and accessibility concerns to distill the information so that it is visually and easily digestible."