Coastal Engineering
With unique and complex forces shaping the coastal zone, it can be challenging to analyze conditions and develop projects in these areas. Our coastal engineers combine advanced technical engineering capabilities with a broad understanding of coastal processes to offer comprehensive engineering services for coastal analysis and construction projects.
Coastal Hazards Analysis and Management
We evaluate coastal hazards and analyze factors including oceanography, wave forces, tide levels, waves, wind, and erosion. Our experts perform numerical modeling to predict shoreline changes and apply advanced fluid mechanics principles to optimize the development of resilient coastal infrastructure to mitigate damage caused by wave runup and overtopping and safeguard coastal areas from risks like sea level rise. Applying the latest science- and technology-driven strategies, our coastal engineers integrate sustainable "green" design solutions like dunes and reefs to naturally enhance our shorelines.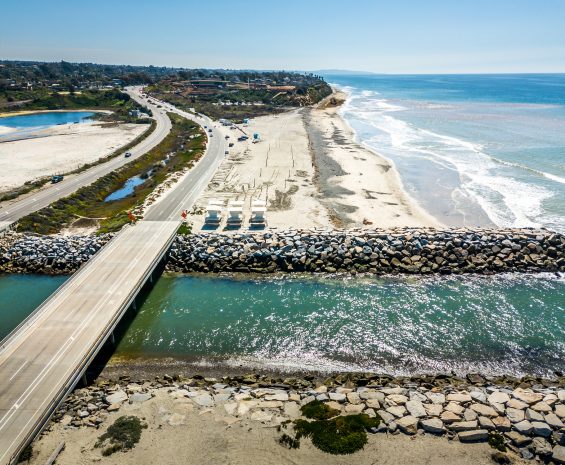 Coastal Structure Planning and Design
Coastal structures are vital for helping communities prosper, protecting harbors, ensuring shoreline stability, and protecting against floods. We provide comprehensive planning and design for various coastal structures that enhance the resilience and economic well-being of coastal communities, including:
Seawalls
Dock Systems and Piers
Riprap Revetments
Bulkheads
Beach Access Stairs, Pedestrian Boardwalks, and Bridges
Dredging and Beach Nourishment
Dredging and Sediment Management
Traditionally, dredged material was disposed of, but today it serves as a resource for wetland creation, beach nourishment, and more. Dudek's coastal engineers can provide beneficial material use and dredged material management support, including dredging, beach nourishment, beach stabilization, and stormwater impact analysis.
What We Do
Our multidisciplinary in-house specialties allow us to provide efficiencies that maintain project momentum.