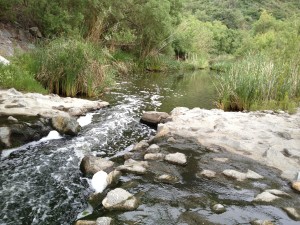 The City of Aliso Viejo (City) has started construction on its third wetlands project to naturally treat water runoff and improve water quality and restore natural habitat near a local creek.
The Dairy Fork wetlands water treatment project will restore natural habitat near Aliso Creek and reduce pollutants by up to 99% in water runoff into the creek coming from 1,500 acres of residential and commercial areas within the cities of Aliso Viejo, Lake Forest, Laguna Hills, and Laguna Woods. The City previously built wetlands in 2005 and 2010 to improve water quality.
Aliso Creek is one of seven major coastal watersheds within the South Orange County Watershed Management Area encompassing a 496-square-mile hydrologic unit spanning San Diego, Orange, and Riverside counties.
Wetlands Work
Habitat Restorations Sciences Inc. (HRS) is constructing the wetlands water treatment project. The project entails building two ponds, removing non-native invasive plants and planting native, ecosystem-friendly foliage.
Funding for the wetlands water treatment project came from Proposition 84 state funds and local Orange County Transportation Authority funding measure. Remaining funding is shared by the four cities involved.
"As you can imagine, improving our water quality and restoring natural habitat have challenged state, local and federal authorities – not to mention developers – for decades," said Aliso Viejo Mayor Mike Munzing. "It's essential for us to do everything we can to clean up our water—to benefit the environment and future generations. I am extremely proud of the work our city and our partnering cities and agencies are doing to make that happen."
***
For more information, contact Mark Girard, HRS president, at mgirard@hrs.dudek.com or 760.547.8521.