California has more federally recognized tribes than any other state—109 to be exact. Within the State of California, Tribes, Tribal Communities, and Underrepresented Communities face multiple challenges regarding water equity and access to clean, affordable, and sustainable groundwater and water resources, such as groundwater overdraft and groundwater basin contamination. The Public Policy Institute of California also reports that funding is an issue due to the small customer base of tribal drinking water systems. Fewer customers result in less revenue, which limits the scope of infrastructure improvements that can be made. Moreover, the Tribal cultural significance of water and water bodies is not often recognized by local, state, or federal governments, meaning tribes often do not have primary access to their ancestral waters and water uses that are interwoven into their cosmology and identity.
The passage of the Sustainable Groundwater Management Act (SGMA) has highlighted marginalization and lack of participation by interested parties. Isolated Tribes, Tribal Communities, and Underrepresented Communities or those within areas of the state that are not served by municipal services or water districts are particularly affected due to heavy dependence on local water supplies.
California Acts to Address Water Inequity
The Human Right to Water legislation (Assembly Bill 685) declares, "every human being has the right to safe, clean, affordable, and accessible water adequate for human consumption, cooking, and sanitary purposes." To foster water equity and support the implementation of this legislation, the California Department of Water Resources (DWR) has launched a Technical Assistance Program (Program) to provide needs/risks and vulnerabilities assessments and technical engineering services to prioritized Tribal governments and underrepresented communities in California to ensure water supply/water quality equity.
Dudek's Role in Advancing Resilience and Equity
Among various other projects with DWR, Dudek is assisting DWR in implementing its Program. Inclusive and effective public participation is vital in facilitating the Program's goal to increase water equity, so Dudek is providing eligible needs, risk, and vulnerability assessments, as well as culturally sensitive community outreach and engagement to Tribes and underrepresented Communities. Our outreach and engagement work includes:
Identifying, prioritizing, and mapping the tribal governments, tribal communities, and underrepresented communities that need support
Educating these communities on SGMA and the role of their local groundwater sustainability agencies (GSAs)
Assessing the needs/risks and vulnerabilities of water systems in tribal governments, tribal communities, and underrepresented communities in SGMA-regulated basins, and sharing these outcomes with GSAs to facilitate coordination and dialogue
Providing technical assistance services and support for actionable engineering and hydrological projects/programmatic solutions that support water resilience and water equity
Identifying Communities in Need of Support
The Program defines Tribes and Tribal communities as those listed on the NAHC tribal consultation list. Underrepresented communities include:
Disadvantaged and severely disadvantaged communities (i.e., those with a median household income (MHI) that is less than 80% and less than 60% of statewide MHI, respectively)
Private domestic well owners
Small farmers, growers, and community systems
Members of fringe communities and other communities scored with CalEnviroScreen 4.0
Communities identified through the Human Right to Water portal
Dudek contacted GSAs, community services districts, water districts, cities, counties, planning divisions, environmental health services divisions, NGOs, and all NAHC list contacts via phone, email, and mail to provide information on the Program and discern water system needs. Outreach specialists also collected information on income, water accessibility, quantity, and quality, and groundwater basin information.
The next step was to make that data actionable. Dudek Technical Storytelling Manager Raoul Ranoa said, "Gathering data was not enough. The data had to be presented in such a way that everyone could understand it." To help decision-makers make educated and responsible choices, Dudek's GIS and Technical Storytelling teams collaborated to ensure water data was presented as clearly as possible using heat maps and a community identification tool. "Transparency in methodology is also a vital part of the communication process," Ranoa said. "So, we created an infographic detailing the methodology behind our mapping and data visualization process."
As part of the identification and prioritization process, Dudek collected and combined data from over a dozen sources to evaluate the hydrogeological and ethnographic setting of communities and water systems throughout the state. "Using this data, Dudek programmers and engineers developed a customized database that allows for nearly instantaneous adjustment and evaluation of the criteria most indicative of community needs", said Matt Naftaly, Dudek Hydrologist and Deputy Program Manager. "Among the many water equity criteria considered are threats to surface water, health and viability of groundwater resources, ability to comply with state water quality standards, and the financial well-being of the communities and water systems under consideration."
Educating Communities on SGMA and their Local GSAs
Once communities were identified and prioritized, Dudek worked with community leaders to convene in-person workshops to discuss the Program and its relationship to SGMA, the roles and responsibilities of the GSA governing their geographic area. This provided an opportunity for more collaboration between GSAs and identified communities.
Additionally, our graphic design and media production teams crafted and implemented custom branding including logos, colors, and iconography for all communications, including handouts, flyers, posters, PSAs, social media posts, and videos. The videos and PSAs were prepared to reach speakers of multiple languages including English, Spanish, Tagalog, and Traditional and Simplified Chinese, Hmong, and Mixteco (Alto and Bajo). Videos were developed with input from native speakers to ensure culturally sensitive coloration and iconography as well as ADA-compliant animations to ensure accessibility.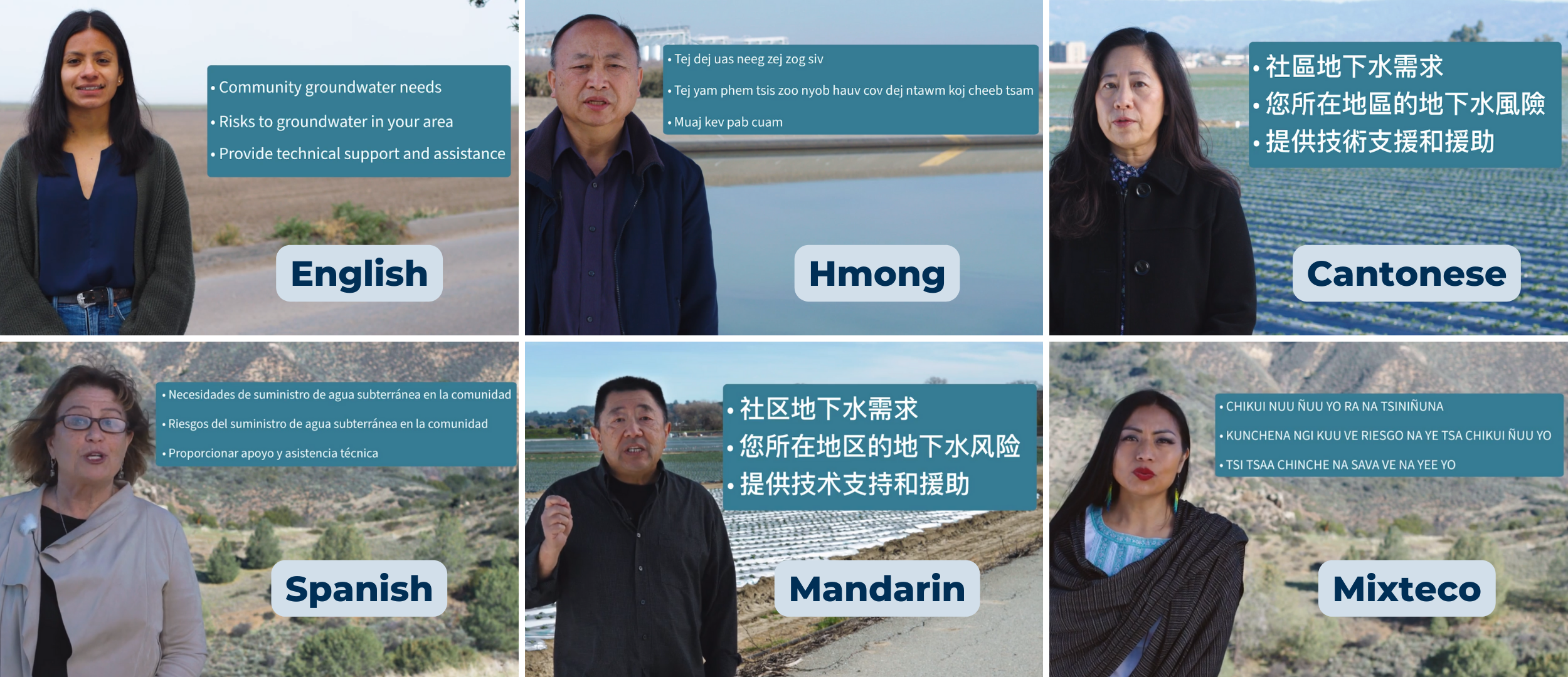 Assessing Community Needs, Risks, and Vulnerabilities
Following education on SGMA and groundwater issues, we are continuing outreach to assess communities' water needs within SGMA-designated basins. Our staff will host workshops, as well as publish public notices, social media posts, informational materials, and radio advertisements. Dudek's archaeologists, ethnographers, and cultural resources experts are skilled in tribal outreach and engagement. Our experts leverage the trusted relationships they have built with tribal entities and elders throughout the state to facilitate productive tribal engagement as it relates to needs assessment. Understanding the deep spiritual connection Native Americans have with water, and the awareness of the value of traditional ecological knowledge will play a critical role in increasing water equity for Tribes and Tribal communities.
Planner Claudia Flores said, "Through our discussions with Tribal communities, we have learned about important water equity issues that data may not capture." Flores recounted a conversation with a Tribal representative that underscored the importance of dialoguing with Tribal communities. The representative noted, "There is an assumption that public water use captures tribal water use and there are certainly parts where they overlap, but there are also distinctions that need to be recognized."
Providing Technical Services and Support for Community Projects that Support Water Equity
The goal of all outreach and engagement activities is to provide awareness of the Program, to conduct needs/risks and vulnerability assessments in prioritized communities and provide technical, hydrology, and engineering services to tribal governments, tribal communities, and underrepresented communities within SGMA-regulated basins. Dudek Program Manager and Regional Planner Jane Gray said "The information from the needs, risk and vulnerability assessments, as well as community surveying, will inform Dudek's support of the development of fundable projects that will position communities for climate and water resiliency and expand water equity. Moreover, the Program will provide opportunities for relationship and capacity building between GSAs and tribal governments and communities, as well as underrepresented communities.
---
Dudek has been implementing the Sustainable Groundwater Management Act (SGMA) since its inception, preparing some of the first GSPs in the state. Our SGMA experts have prepared GSPs and performed SGMA support services for Disadvantaged Communities (DACs) and within critically-overdrafted basins. We have worked with communities to form Stakeholder Advisory Groups related to the Human Right to Water and to ensure that underrepresented communities have been engaged in the SGMA process from GSA formation to GSP development and to project scoping and implementation. Dudek's water, community outreach, and cultural resource experts are uniquely poised to support water equity projects throughout California and the United States.