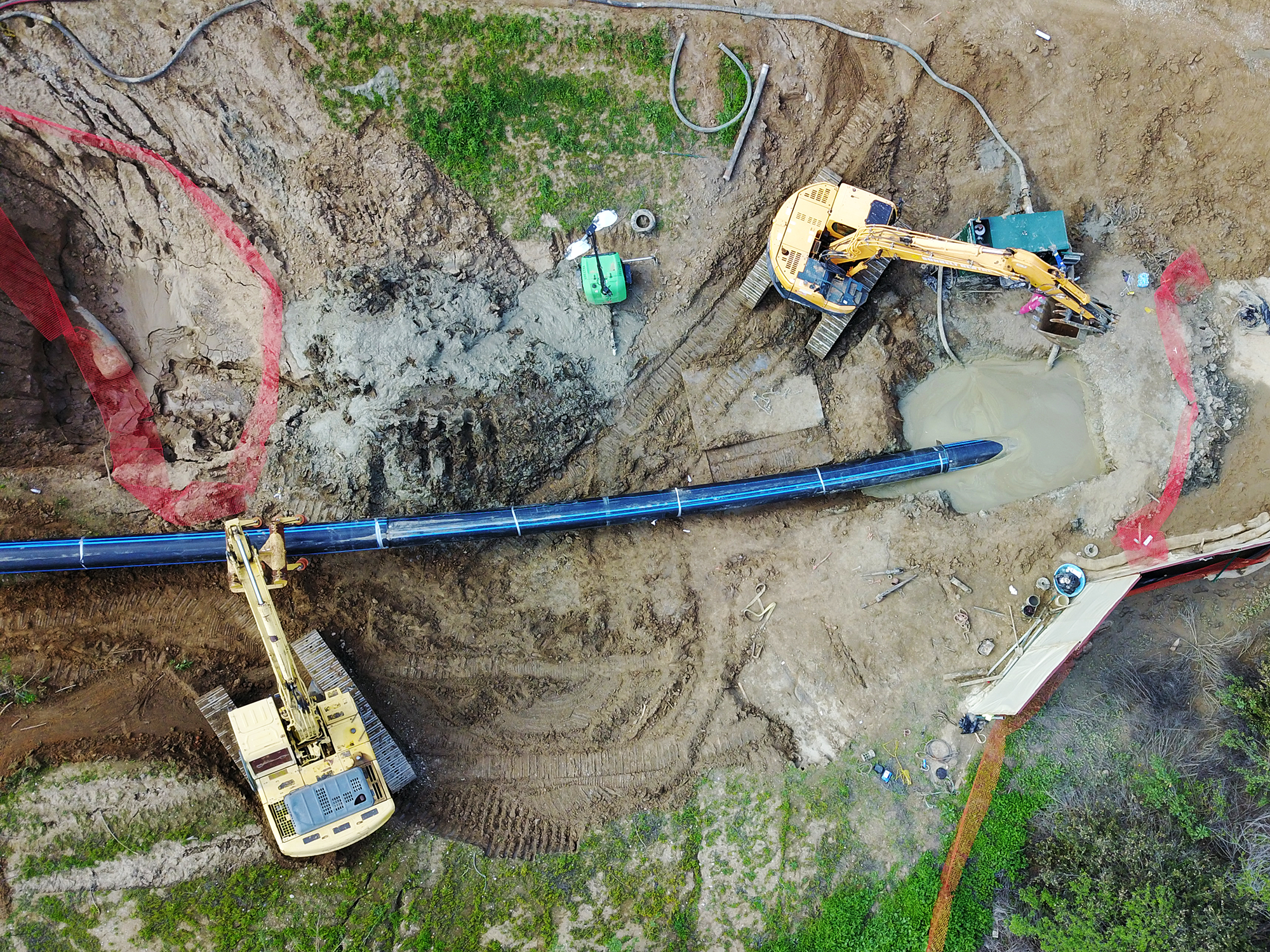 Permitting pipeline projects in extremely congested or environmentally sensitive areas can be burdensome from a schedule and financial standpoint. Horizontal directional drilling (HDD) construction methods can minimize surface disruption and often avoid impacts altogether. In this way, HDD offers great potential to reduce a project's schedule and budget.
Horizontal Directional Drilling Process and Benefits
The HDD process includes several steps, beginning with boring a small pilot hole underground with a continuous string of drill rods. Once the pilot hole is complete, a cutting tool called a back-reamer is attached and pulled back through the pilot hole. Several passes usually occur, depending on the diameter of the installed pipeline. Finally, the new pipeline is pulled back through the cleared pathway, and installation is complete.
HDD has several benefits, including:
Durability;
Faster installation;
Potentially lower project cost;
Less community and environmental disruption; and
Fewer permitting issues.
"Permitting projects in environmentally sensitive or congested areas takes quite a bit more work," said Dudek Engineer Kate Palmer. "HDD reduces aboveground disruption and can, potentially, completely avoid adverse environmental impacts. This makes horizontal directional drilling a great option for certain projects, saving time and money and streamlining the permitting process."
In addition, the actual HDD construction process can often be quicker than installation by standard open cut trenching and backfilling. Horizontal directional drilling construction is faster, as it avoids conflicts like existing utilities that slow down traditional trenching and backfilling construction. Combined with a more streamlined permitting process, HDD can significantly shorten a project schedule and, potentially, reduce its budget.
Pipeline Project Saved by HDD
Dudek engineers have utilized HDD technology for years, successfully designing projects with unique challenges, including large installation lengths, large diameters, multiple simultaneous pipe installations, and curved pipeline design. One such case was the completion of the Chino Basin Desalter Authority's (CDA) Product Water Line under the Santa Ana River, which will provide Western Municipal Water District with complete allocation of water to customers from the Chino II Desalter Facility.
This approximately 1,000-linear-foot portion of 32-inch-diameter pipeline had remained incomplete since 2014, when another consultant was managing a microtunneling installation of a 42-inch steel casing. Installation was halted by an unknown obstruction just below the northwestern bank of the Santa Ana River, which prevented completion of the crossing. So, Dudek engineers were brought on to redesign the crossing using HDD techniques. Our construction management group oversaw installation of the pipeline.
After nearly five years from work stoppage, construction was completed in less than three months. The narrow construction window was required by the California Department of Fish and Wildlife to avoid impacts to the least Bell's vireo and other migrating birds, as well as by a neighboring business that hosts large outdoor events next to the project site throughout the spring and fall. On top of that, Southern California experienced a wetter-than-average rainy season in 2019, further restricting the already strained construction schedule. Palmer, who managed the project, said, "This project was full of obstacles, but we succeeded in completing the last remaining section of the pipeline under the river in March."
---
Horizontal directional drilling is a proven trenchless construction method that may be considered for installing new utility infrastructure in extremely congested or environmentally sensitive areas.