On December 28, 2021, the USFWS published a proposed rule in the Federal Register listing four of six Distinct Population Segments (DPSs) of the foothill yellow-legged frog (Rana boylii) under the Endangered Species Act. This follows the 2020 listing by the California Fish and Game Commission of five of six clades of the foothill yellow-legged frog as either Endangered or Threatened under the California Endangered Species Act (California ESA).
The California ESA has included protections for foothill yellow-legged frog since July 2017, when it was made a Candidate for listing. FYLF was a California Species of Special Concern for many years prior. Although the DPSs included under the proposed federal ESA listing fall within the clade boundaries already protected by the California ESA listing, federal ESA protections would increase the number of projects required to mitigate for impacts and would increase the level of permitting effort.
Which foothill yellow-legged frog populations are proposed for listing under the federal ESA?
USFWS's proposed foothill yellow-legged frog listing includes the South Sierra and South Coast DPSs as endangered species and the North Feather and Central Coast DPSs as threatened species. The proposal to list the North Feather and Central Coast DPSs as threatened species also includes a rule issued under section 4(d) of the ESA for each of these two DPSs, which provides details on the protection extended to threatened species. The USFWS has not proposed the designation of critical habitat for these four DPSs at this time. The USFWS excluded two of the six DPSs in its proposal for listing: the North Coast DPS (in Oregon and northern California) and the North Sierra DPS (in Yuba, Sierra, Nevada, and Placer Counties, California).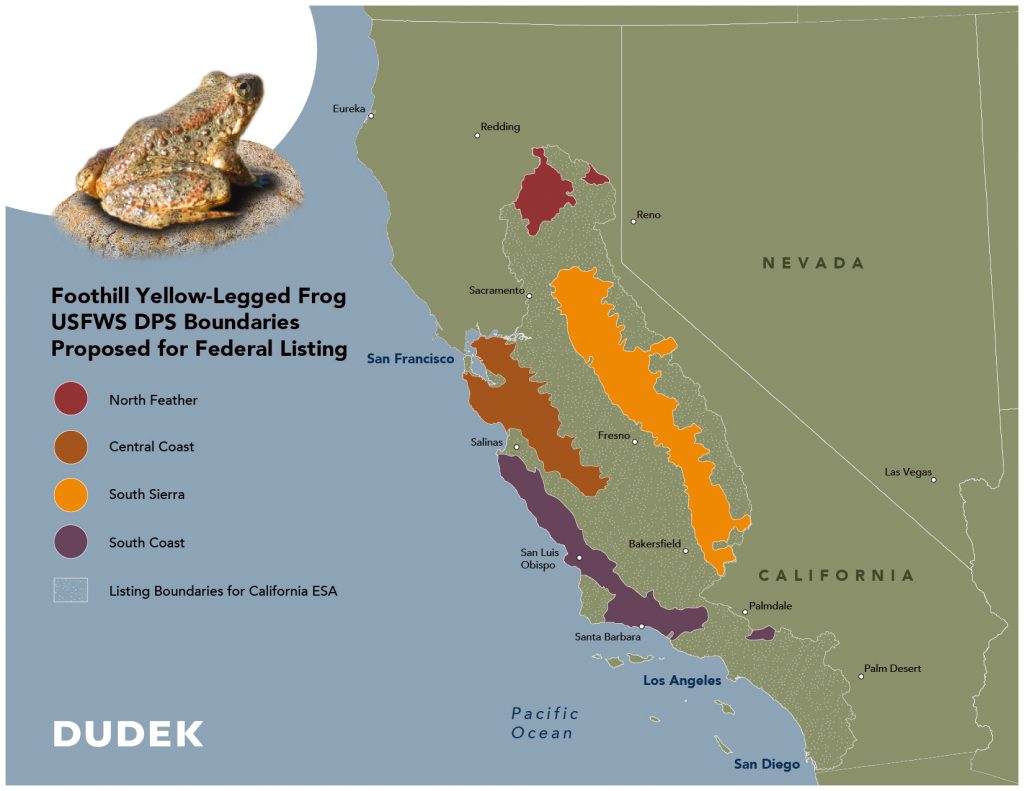 Which FYLF clades have been listed under the California ESA?
The CDFW's listing decision designated three clades as endangered and two clades as threatened. The endangered clades include Southwest/South Coast, West/Central Coast, and East/Southern Sierra. Threatened clades include Feather River and Northeast/Northern Sierra. The CDFW determined the Northwest/North Coast clade to not be under any threat of extinction or endangerment in the near future.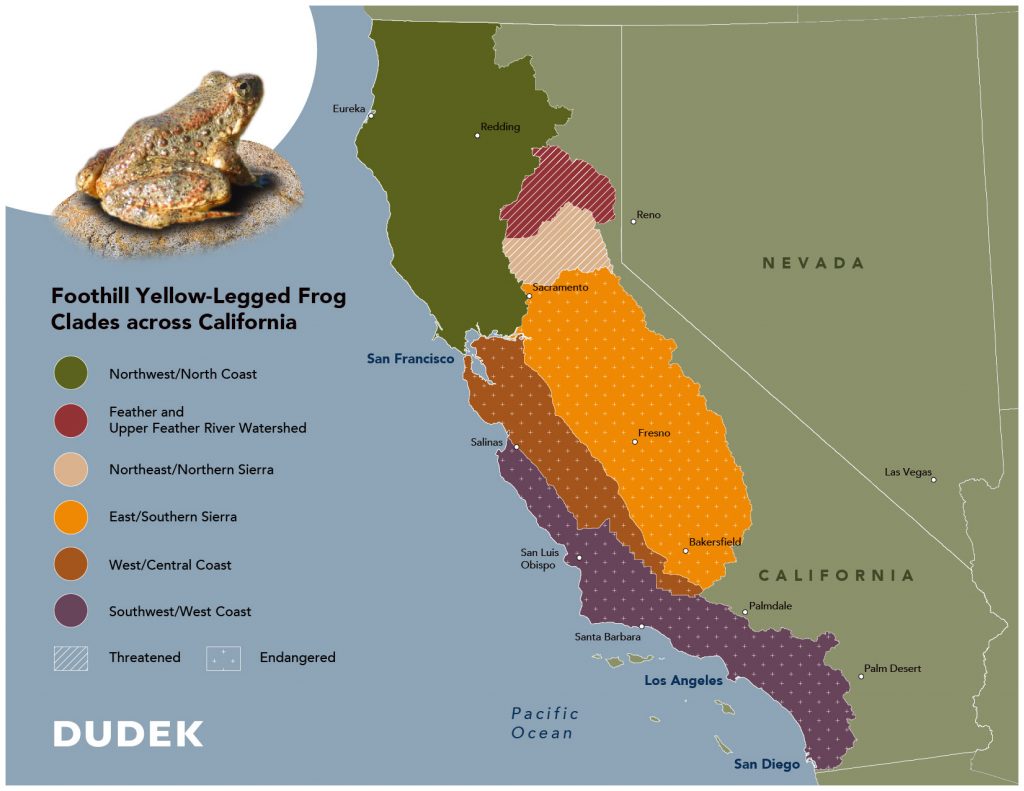 How will this foothill yellow-legged frog listing affect my project?
Projects along the western coast, central coast, foothills of the central valley, and in the Sierras will be required to avoid or mitigate impacts to FYLF populations. With the proposed federal foothill yellow-legged frog listing, projects on federal lands within the four DPSs will be required to avoid, minimize and mitigate impacts as well. At a minimum, it will be necessary to conduct habitat assessment to identify areas where FYLF are likely to occur or where they will not or are unlikely to occur.
Dudek Senior Biologist Mike Henry said:
"Enlisting expertise to determine where the species won't occur is crucial to avoid unnecessary and time-consuming survey efforts or having to provide compensatory mitigation for impacts to non-habitat lands."
If a study determines the species is likely to occur, the project may require visual encounter surveys, larval surveys, egg mass surveys, and relocations consistent with published protocols, such as the protocol written by Retired Dudek Senior Aquatic Ecologist Craig Seltenrich.
Monitoring the West/Central Coast FYLF Clade
The San Jose Water Company needed to permit water diversions on various creeks in the Saratoga Creek and Los Gatos Creek watersheds. Wildlife agencies presumed that at least five of the involved creeks provided potential FYLF habitat and that flows in those streams must be managed to support FYLF breeding and larval development. Considering CDFW's foothill yellow-legged frog listing, Dudek biologists conducted detailed habitat assessments on the creeks, including monitoring flow rates and water temperature, and found that only one of the five creeks had the potential to support FYLF.
Agency staff accepted our findings, and Dudek is conducting additional monitoring of water temperature on one of the five creeks to potentially exclude flow management for FYLF on that stream as well. Henry said:
"Our biologists' knowledge of the species habitat requirements and field methods to evaluate the habitat is known by state and federal wildlife agency staff, and they trust our findings. This earned trust ensures that our clients don't experience unpleasant surprises when consulting on their projects, avoiding risks to the project timeline."
For San Jose Water Company, this saves time and money throughout the duration of the project, while still facilitating increased water delivery to their customers.
---
Dudek has more than 12 biologists throughout California who are staying abreast of the developments concerning federal foothill yellow-legged frog listing status. Our amphibian biologists are experienced in conducting foothill yellow-legged frog habitat assessment and visual encounter surveys, as well as handling and relocation of the species.