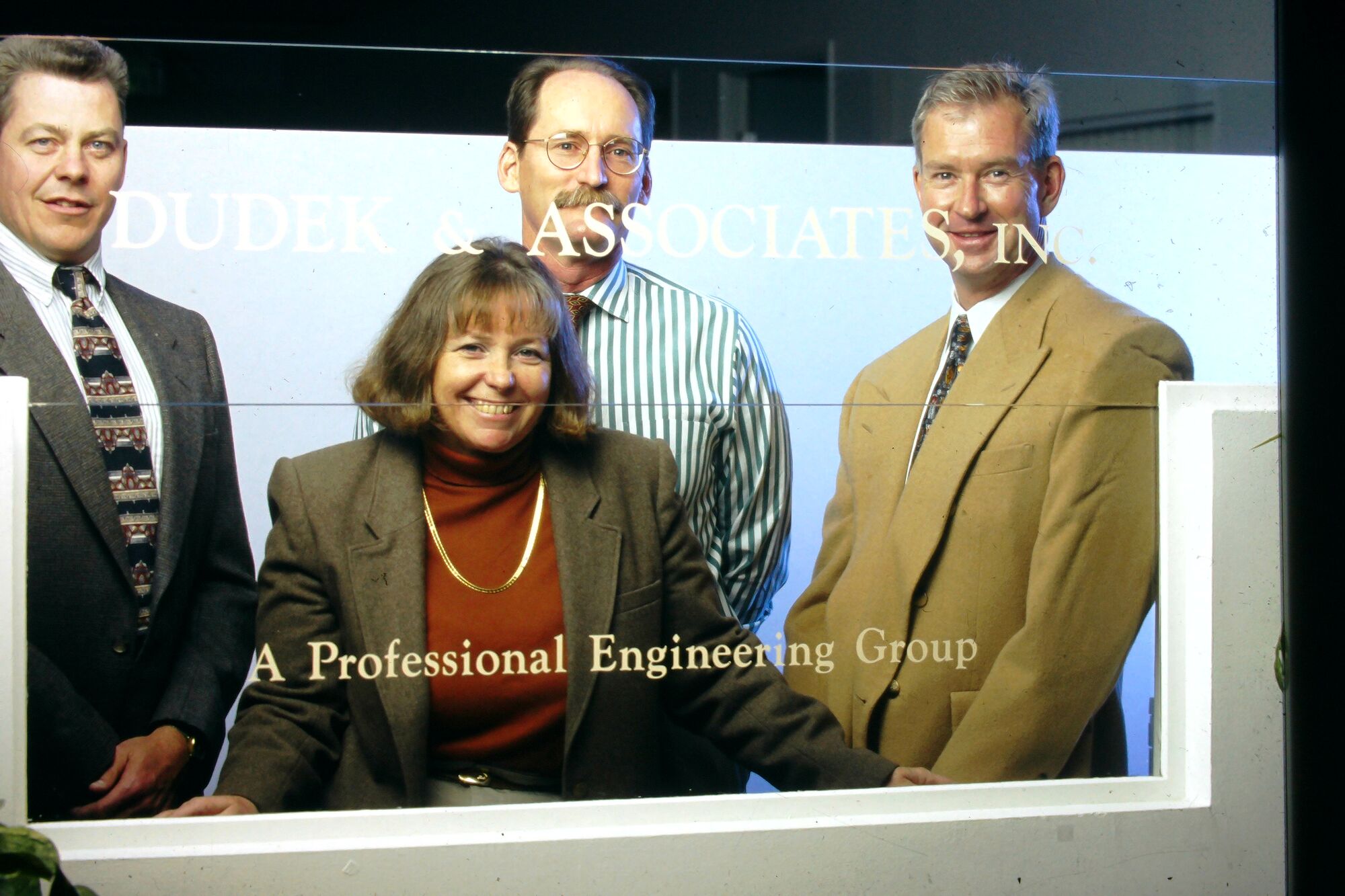 March 2020 marked the start of Dudek's 40th year. In 1980, the firm was made up of 2 water engineers working out of a single office in Encinitas, California. Today, we have 600+ staff, who are experts in more than 20 disciplines, working out of 16 offices on projects across the nation. 37 Dudekians have been here for 20 years or longer; below, some of them reflect on Dudek through the Decades.
What's the most surprising change you've witnessed?
On Culture
When I joined Dudek, there were 50 people. Now there over 600 Dudekians!! This is a significant change in the company and it was done with a constant eye on maintaining our culture and trust between management and staff. Our firm is rare in the industry, and we thrive because of that difference.

— Mike Metts, Water Infrastructure, 27 Years
On Tech
IT infrastructure. When I started at Dudek my computer wasn't powerful enough to run Arcmap 8.0, the latest and most powerful version of ESRI's desktop mapping software—I had to stick with Arcview 3.2, a significantly inferior product. Fast forward to 2020 and Dudek has all our data in the Cloud and we access our GIS programs through Virtual Machines. The progress over the last 20 years has simply been staggering.

— Mark McGinnis, Mapping and Surveying, 20 Years
The creation of a shared network with drives that we can all access companywide. Believe it or not when I first started working at Dudek, everyone simply saved documents they worked on directly on their hard drive. If you were asked to prepare a biology report, for example, you had to pick up the phone or walk door to door to ask if anyone had an example report you could use as a template.

— Tricia Wotipka, Biology, 20 Years
On Growth
The most significant change has been in the continued steady growth. You can expect fits and starts in a company, but this machine has been growing (on multiple levels) at a steady clip for my entire career. The ability of talented people to accurately perceive future service and client opportunities and then act upon them has been the engine of the machine. Of course, this wouldn't be as possible without a company structure that believes in and trusts staff to do these things—hire and keep the right staff, treat them like adults, and treat them fairly, and wonderful things will happen.

— Brock Ortega, Biology, 28 Years
Establishing a formal publications department with individuals who specialize in developing more standardized templates for our various document types and providing formatting and editorial review of our documents has been critical to improving the quality of our work products. When I first started at Dudek our publications department consisted of one woman, who formatted, reviewed, and compiled reports for everyone in the environmental division!

— Tricia
What does longevity mean to you as a Dudekian?
The longer you stay with one firm the more connected you feel to your colleagues and the more confident you are in your team's abilities. After nearly 20 years, I feel like many of my colleagues are more than work colleagues…and that gives us a better edge over our competitors because we not only enjoy working with our colleagues, but we like them as people.

— Tricia
Longevity has allowed me to be the oldest member of the Dudek band. Seeing the evolution through many iterations of staff involvement, learning a zillion songs from many genres, practicing in "Frank's Place" and playing gigs at staff parties. Can't beat music therapy!

— John Minchin, Restoration, 25 Years
Who are some of your favorite clients?
All of my clients are my favorite! At Dudek, we have the ability to selectively pursue high-quality projects with only the best clients. As a result, I have had many long-term clients that I continue to know. As my career continues, many clients have retired, but are still in touch. I have followed several clients from agency to agency, as they furthered their careers. But some clients…become lifelong friends, and some even like extended family. We enjoy a great opportunity at Dudek to develop and grow such relationships.

— Mike
What has been your proudest moment as a Dudekian?
One of my proudest moments was being involved in helping to establish HRS (our habitat construction subsidiary). That step really helped expand our habitat restoration services beyond design and allowed us to see projects all the way through to completion!

— John
In the early 90s, our drafters were beta testing a new full-size HP plotter. HP decided to put our review in their marketing brochures. They even sent a photographer to our office to take photos of us next to the plotter. I think that was the first time I put on a tie!

— Paul Caligiuri, Water Treatment, 36 Years
What was your most memorable moment?
I have a fond memory where a number of Dudekians had to travel to Salinas for field work. It was almost like a summer camp atmosphere! Lots of hard work during the day, but fun happy hours and group dinners at night.

—Kayvan Ilkhanipour, Hydrogeology, 22 Years
While monitoring the construction of our Encinitas Creek Channel Mitigation project, I saw two families of ducks with numerous baby ducklings already using the pond areas before the project was even complete. It felt good knowing that we had helped created an area that could support wildlife and which they could use to raise a family!

— John
I remember participating in extensive rare plant surveys at Newhall where we would wake up early (before 6 am) and survey for a few hours until the heat became unbearable; then we would reconvene around 3:30 or 4 pm and survey until sundown. It was those days where I truly felt like a field biologist. My arms would be stained with dirt and sunblock. I would be exhausted from walking the countless hillsides, ridgelines, and canyons all day long.

They were long, hard days but we saw some of the most beautiful country in some of the most remote regions of Los Angeles and Ventura Counties. It was pretty amazing. At night, if we were lucky to be in Newhall during a meteor shower, we would drive out to the ranch, open the truck beds, and watch shooting stars while eating miniature candy bars. You really bond with your colleagues during those difficult days. It made the group dinners so much fun–we finally got to relax and enjoy each other once work was done.

— Tricia
---
Thanks to all our clients and colleagues who have been with us along these past 40 years. For a detailed look back at the firm and Dudekians from inception to today, check out our visual timeline.