Many cities whose sewer systems were constructed in the first half of the 20th century are plagued by sanitary sewer overflows (SSOs) due to long-neglected root intrusion and pipe defects. To combat this, sewers can be rehabilitated using trenchless cured-in-place pipe (CIPP) lining. This method can fully rehabilitate aging pipes at least three times faster and for one-quarter to one-third the cost of conventional open trench replacement, and with far less public and environmental impact.
Producing Thorough Construction Bid Documents for Cured-in-Place Pipe Projects
The foundation of a successful sewer rehabilitation program using CIPP is development of thorough construction bid documents, which allow contractors to confidently bid on projects and limit change orders, while minimizing design costs compared to traditional open trench designs.
When preparing bid documents for CIPP projects, Amanda Combs, Dudek senior engineer, recommended cities undertake the following four steps to garner low construction bids, protect against change orders, and keep construction progressing smoothly:
Collect Sufficient Pipe and Manhole Data. Pipe diameter, material, and manhole depths are needed so that cured-in-place pipe liners can be sized to closely fit inside the host pipe and withstand soil and live loads. Additionally, it is important to provide contractors with pipe slope and flow direction, as a steeply sloped sewer with a difficult-to-access upstream manhole presents a problem that is less costly to address during design than during construction.
Capture High-Resolution, Recent Aerial Imagery. CIPP installation involves accessing upstream and downstream manholes. Aerial imagery at a minimum scale of 1"=100' allows design teams and contractors to see the site conditions around each manhole and determine all reasonably anticipated costs during bidding. For instance, a manhole located in a backyard easement will require owner coordination for access and hand-carried equipment; while a manhole located in a busy intersection may require extensive traffic control and will cost more to access than a manhole located in the shoulder of the same street.
Define Atypical Conditions. Most sewers across a service area will be located in paved right-of-way and can be rehabilitated using typical traffic control, bypassing, cleaning, and CIPP installation methods. However, some sewers may require special construction approaches that increase the time and/or resources needed for lining. To control costs and disputes during construction, bid documents should identify pipes that require special traffic control, bypass, and/or remote site setup, as well as specialty or heavy cleaning. Additionally, all manholes outside the right-of-way should be field located during the design phase to either confirm accessibility or provide a bid item for gaining access.
Set Clear Work-Hour and Site Restrictions. Controlling the contractor's work hours and providing clear schedule restrictions for schools, hospitals, fire stations, special events, or high rush-hour traffic areas eases community impacts. Public outreach should also include one-week and 36-hour notifications and literature describing the cured-in-place pipe process, what impacts residents should expect during construction, and the importance of clearing roots prior to the start of the project.
Successful Sewer Rehab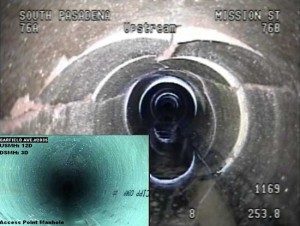 The City of South Pasadena (City) recently accomplished a large-scale rehabilitation of 30 miles of pipes within its aging sewer system. The City's sewers were vulnerable to SSOs, so a proactive rehabilitation strategy was undertaken, whereby the City evaluated pipe condition; acquired funding through the Clean Water State Revolving Fund; and enlisted Dudek engineers to design a cost-efficient and minimally intrusive sewer rehabilitation project using trenchless CIPP lining.
The CIPP technique constructs a new pipe within an existing pipe using the existing pipe as a mold. The new liner is inverted into the pipe between manholes and cured using steam or hot water. The resulting pipe is as strong as the original host pipe and has an expected useful life in excess of 50 years.
"CIPP is by no means a cutting-edge technology, and the liner material and installation are fairly well-covered in the public works construction guidelines, but when such a high-volume CIPP project is undertaken, plenty can go wrong," Project Manager Amanda Combs said. Supported by the City's system-wide GIS and sewer inspection data, Dudek implemented thorough planning to avoid overlooking design aspects that could result in costly construction change orders due to unanticipated conditions.
Phase 1 construction of the City's sewer rehabilitation and repair program was completed in September 2015, ahead of schedule and with no change orders. "Dudek's design laid the foundation for the project's success. The City could not be more pleased with the successful outcome of this project" said Shin Furukawa, Deputy Public Works Director for the City of South Pasadena.
In February 2016, the City and Dudek were honored with the Los Angeles Basin Section of the Clean Water Environment Association's 2015 Engineering Achievement Award for the project.
For more information contact us!