Throughout California, riparian habitat and water resources are threatened by the effects of climate change and continued population growth. Buena Vista Creek in Oceanside, California is one such place. The creek has been highly fragmented due to development and contains engineered creek segments, which has degraded native habitat, decreased native riparian and freshwater wetlands, and increased the risk of flooding. One of the last remaining natural-bottom stretches of Buena Vista Creek is threatened by trash and debris accumulation, erosion/bank destabilization, and non-native vegetation. To restore this 1,700-linear-foot reach of the creek to its natural condition and meet the goals of the City of Oceanside's 2019 Climate Action Plan and Water Quality Improvement Plan, the City partnered with the Buena Vista Audubon Society to complete the Buena Vista Creek Restoration Planning and Disadvantaged Communities Stewardship Project.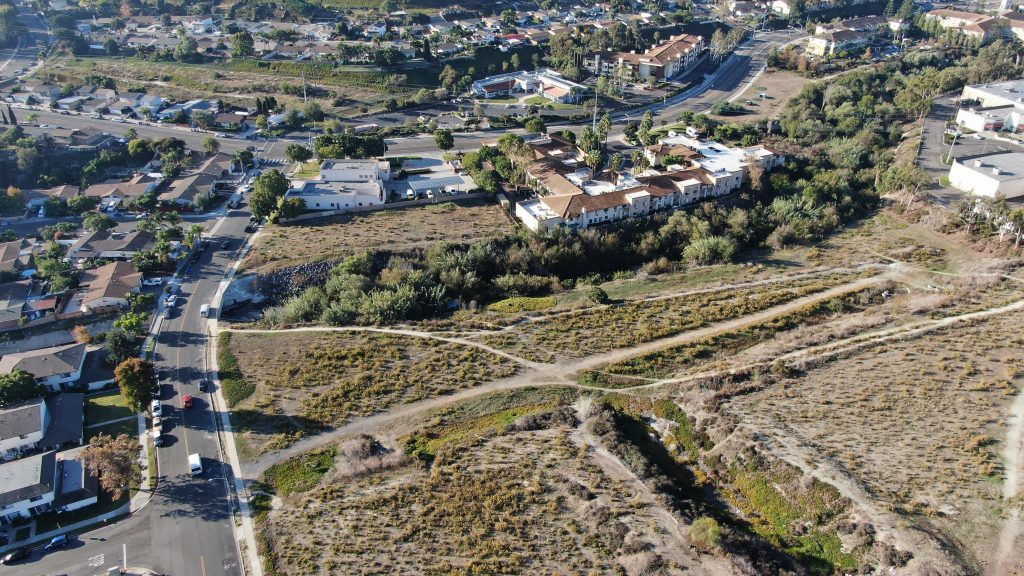 DWR Grant Makes the Buena Vista Creek Restoration Possible
In April 2020, the California Department of Water Resources (DWR) awarded the City the Urban Streams Restoration Planning Grant to fund the design of the project. "The grant was the first step in reviving the function and beauty of Buena Vista Creek in southeast Oceanside," City of Oceanside Project Manager Bronti Cash said. In addition to restoring a portion of the creek, the project aims to promote stewardship within the surrounding community, providing a place for recreation and education to connect the community and the environment. Cash said, "The City is excited to be working with DWR, Buena Vista Audubon Society, and Dudek to design a restoration project that returns this area of the creek to a healthy ecosystem and a safe destination for local residents to enjoy."
Integrating Environmental, Engineering, and Planning Experts
Dudek is providing habitat restoration engineering design, aerial surveying and mapping, biological and cultural surveying, environmental planning and permitting, and public outreach services for the restoration of Buena Vista Creek. Our integrated team includes engineering and environmental resources experts, habitat restoration professionals, landscape architects, community outreach specialists, and specialized geomorphologists (Group Delta). Together, they're designing appropriate channel restoration and stabilization measures to reduce erosion and sediment transport, promote hydrologic connectivity, and restore habitat functions and values.
In support of the restoration design, Dudek's in-house Mapping and Surveying team utilized unmanned aircraft systems (UAS) technology to obtain high-resolution lidar and aerial imagery for the project site. The high-resolution imagery and topography data generated will aid in documenting and mapping existing vegetation communities, provide detailed site topography and landform information, inform the hydrology and hydraulics modeling, and provide improved definition of other site features.
Restoring Buena Vista Creek for Community Enjoyment
Dudek is also addressing exotic plant species invasion and the substantial trash and debris accumulation to improve habitat value for wildlife and afford recreational access and stewardship opportunities for the adjacent Disadvantaged Community (DAC). This project is the first phase of a larger restoration program, which aims to improve existing riparian habitat, enhance water quality, reduce flooding, and further the City's Green Oceanside campaign to provide recreational and educational stewardship opportunities for the surrounding community to enjoy.
Once complete, the Buena Vista Creek Restoration Planning and Disadvantaged Communities Stewardship Project will exemplify the City's mission to improve public access, ensure the protection and restoration of natural resources, and facilitate community stewardship within the City's jurisdiction. Buena Vista Audubon Society Executive Director Natalie Shapiro said, "This important project will help create an ecologically enhanced stretch of Buena Vista Creek, benefiting birds and other wildlife, as well as local residents who will finally have a place to enjoy nature in their community."
Learn more about the project and provide your input at the City of Oceanside Watershed Protection Program's site.