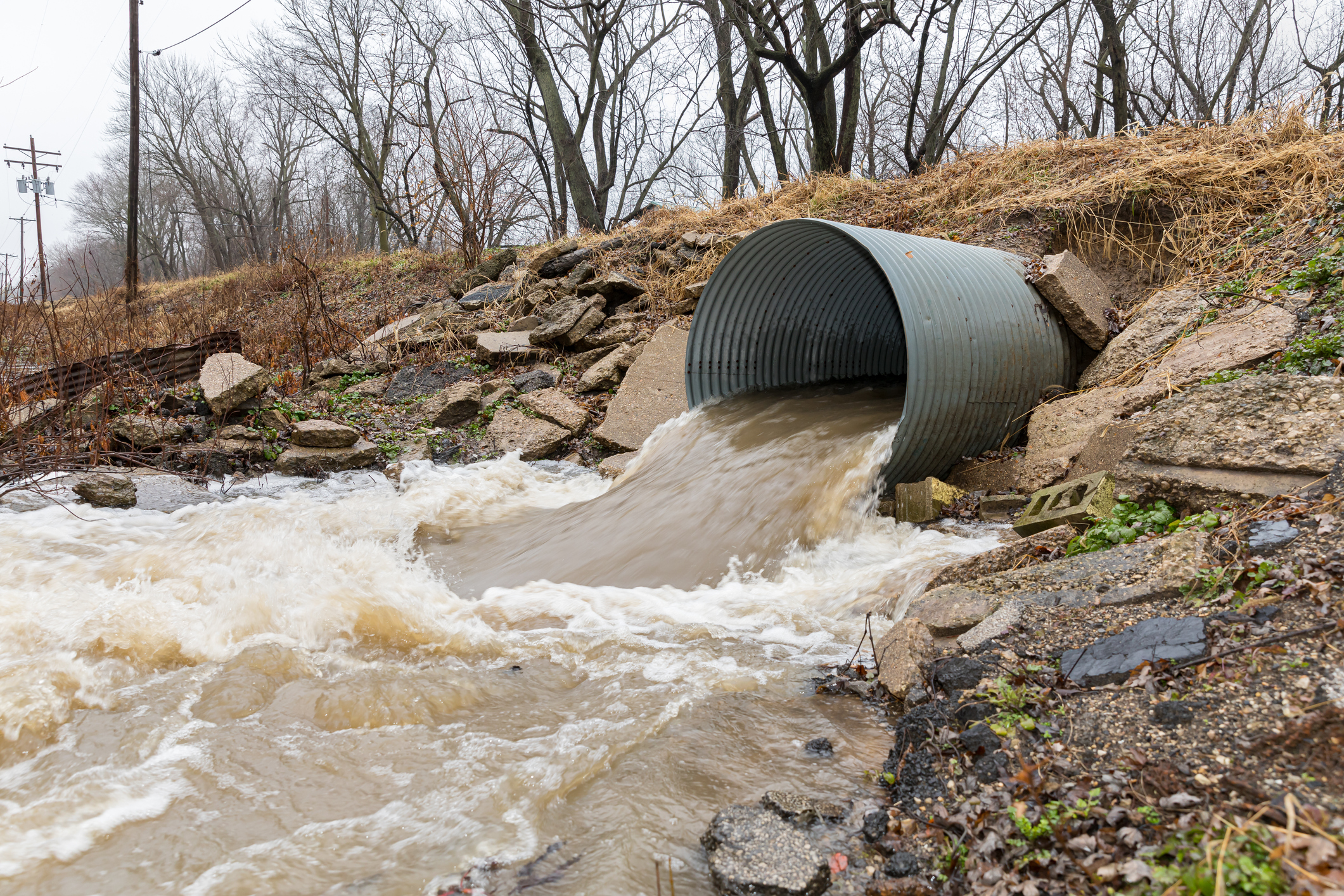 Perhaps inspiring Murphy's later pronouncement, mathematician Augustus De Morgan said, "Whatever can happen, will happen if we make trials enough." At some point, your flood infrastructure will be tested by a storm event equal to or larger than the event it was designed to withstand. The chance in any given year that a storm occurs that is sufficiently strong enough to cause devastating damage is relatively low; however, across a span of decades the probability of such a storm increases exponentially. Understanding the increasing probability of the 100-year storm is critical when considering the conditions of aging infrastructure.
What is the 100-Year Storm?
Is the 100-year storm one that occurs every hundred years? Not quite; it refers to a precipitation event with such intensity that there is only a 1% chance that a storm of such intensity will occur in any given year.
This storm is used as the design storm for many large regional facilities nationwide because it provides a sufficient level of safety against flooding—99% of storms that occur each year for a particular duration will be less intense than the 100-year storm.
However, the probability of a major storm occurrence is more likely than many realize. Across a longer time frame, the chance that a 100-year storm could occur in the next 10 years (9.6%) or 25 years (22.2%) increases significantly from the 1% chance of the 100-year storm occurring this year.
If, in a certain city, all of the bridges that span rivers or creeks were designed for a 100-year storm event, then in a 50-year period, designers should expect approximately 40% of these bridges to experience a storm event equal to or larger than the 100-year storm.
Probability and Precaution
People often state that in 25 years, they have never seen a certain channel with a flow deeper than a couple of feet, so what need is there to make the channel bigger, but you can't just continue to "buy time" if a system needs rehabilitation. In the past 25 years, there is a 22.2% chance that a 100-year storm occurred and, thus, a 77.8% chance that it did not. However, in the next 25 years, the probability of a 100-year storm event occurring nearly doubles to 40%.
| | | | | | | | |
| --- | --- | --- | --- | --- | --- | --- | --- |
| Years | 1 | 5 | 10 | 25 | 50 | 75 | 100 |
| Probability | 1% | 4.9% | 9.6% | 22.2% | 39.5% | 52.9% | 63.4% |
Though only 1% in any given year, the probability of a 100-year storm occurring increases over the long term.
Additionally, data from the National Weather Service reveal that the 100-year storm is actually 10−15% bigger than the old data indicated. That means existing old structures are undersized and may not provide sufficient flood protection against a 100-year storm event.
Across the state this year, a powerful atmospheric river caused considerable damage, including flooding, hundreds of mudslides, and bridge collapses, which may cost as much as $1 billion to repair. As we move into a future of potential long droughts and sudden deluges of rain, it is increasingly important to recognize the jeopardy of this major storm and consider improvements to aging infrastructure that may have been designed according to outmoded, inferior data.
---